The exposition "TOUR DU MONDE" - Wien, Austria - Austria - Velo museums - Velo museums - STERBA-BIKE.cz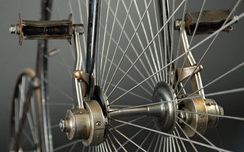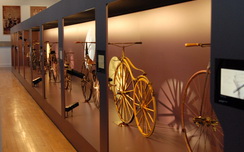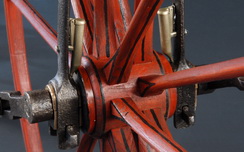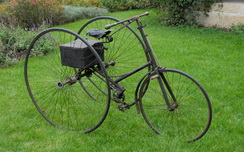 The exposition "TOUR DU MONDE" - Wien, Austria
The exhibition TOUR DE MONDE uses iconic bikes from the 20th and 21st centuries to tell of the quality and diversity of the designs exhibited by this classic mode of transportation. Selected examples from EMABCHER COLLECTION will draw visitors into a journey through the history of the bicycle, this cult object which successively transformed technology and form allow one to trace the recent history of innovation and design in general.
MAK museum Vien 14.6. – 6.10.2013
Contacts:
MAK museum: http://www.mak.at/aktuell
Embacher collection: http://embacher-collection.com/collection.html
album: 115/A - MAK Museum für Kunst
"Cyklopedia" book
The recently published multilingual book Cyclopedia just has to become the bible of every bicycle enthusiast. Just a brief look at its content will lead you through the complete history of modern bicycle design. And this is mainly the credit of Michael Embacher and his unbelievable collection. All of what you see in the book and so much more is the achievement of one man in just eight years of collecting. The Vienna based architect Michael Embacher just woke up one day and decided to start gathering the thing he found most fascinating. This was the bicycle, which appears in the book, or rather in Embacher's collection in all kinds of forms. From classic Italian road or track bikes to unique mountain bikes, folder, children's bikes or traveler's bikes, Embacher's collection knows no limits. Every piece, if it's interesting or somehow original, can earn its place. It can be a Cinelli Laser or a bit bizarre Wilhelmina Plast Itera made in Sweden in 1984. Everything together makes a wonderful sight into the world of cycling design. The Cyclopedia is full of beautiful detailed photographs of a bigger part of Embacher's collection, as well as the prologue written by Paul Smith, a cyclist body and soul. The book also came out in Czech.
/article taken from the second issue of the Pedal Project magazine/ more: http://www.pedal-project.com/
Youtube: https://www.youtube.com/watch?v=izCnxmRiwwg
album: 115/B - Cyklopedie