Renovation of bicycles - Renovation of bicycles - Services - Services - STERBA-BIKE.cz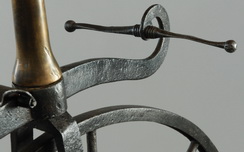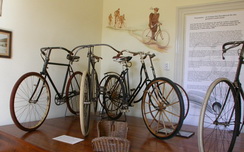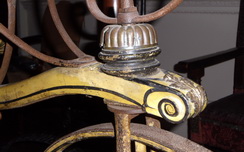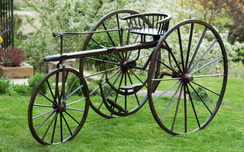 Renovation of bicycles
We also renovate bicycles
You can order only partial repairs or complete renovation. The negotiations for renovation or repair of a bicycle must be based on provision of photographic documentation of the machine that is to be renovated. Its technical condition, completeness and state of disrepair, damage or destruction always provide substantial information for initial considerations of the time required and the price of the work.
 info@sterba-kola.cz , robin@sterba-kola.cz, robin@sterba-bike.cz
Specialization: bicycles produced between 1866 and 1890, sports bicycles 1930 – 1970; we prefer work entailing conservation, cleaning, original components and authenticity
References: Renovations from our workshop were used for the National Technical Museum in Prague and for the private collections of collectors around the world.
Photo gallery: Comparison of a machine before and after renovation. Example of renovation of a French Levocyclette machine, manufactured in 1910, with preference for authenticity with preservation of all the original components, including the tires. The machine was first completely dismantled, all the components were compared with the original documents, the gear system was repaired (mechanical damage prevented its functioning), all the components were carefully cleaned, brushed and polished and then treated with anti-corrosion solution and conserved with a special mixture of wax and other additives.
The price of this renovation was approximately CZK 25,000.
album: Renovation of bicycles
Jaroslav Vožniak: historian and restorer
00 420 724 980 380, http://bicycleclub.zbraslav.info
Specialization: all types of bicycles, touring bicycles from Czech manufacturers from 1900 – 1940; Jaroslav Vožniak cooperates with professionals in a great many other trades
References: Jaroslav Vožniak won a competition for renovation of approx. 20 bicycles for the new exposition in the National Technical Museum. You will be able to view his work in detail in the newly opened building in 2011.
Photo gallery: Original Kangaroo from the British Hillman, Herbert and Cooper company following overall renovation in 2009 for the exposiiton in the National Technical Museum in Prague.
album: Jaroslav Vožniak
Jano Rečo: photographer and restorer
00 420 723 498 014,
Specialization: Velocipedes and wooden bicycles 1866 - 1870, work with wood in general
References: photographer and former employee of NTM – collection of bicycles; more than 100 very rare machines, most of them for the most prestigious private collections in the world, passed through his workshop and his hands.
Photo gallery: Two completely different machines prior to and after renovation. The preference for authenticity and the original condition are apparent from the photographs.
album: Jano Rečo
mesicek@mesicek.cz , tel:00 420 604 255 212
Specialization: high-wheel bicycles and production of replicas of machines, production of copies of spare parts, nickel and chrome plating
References: Products from his workshop have been purchased by customers from around the world.
Photo gallery: The photographs show a machine before and after complicated renovation according to the wishes of the customer.
album: Měsíček and sons
www.cvrcekm.cz    tel.: 00 420 737 782 610
Specialization: high-wheel bicycles, production of replicas of high-wheel bicycles, wheel rims and all spare parts for high-wheel bicycles
References: Martin Cvrček is an expert in the area of metal-working technology and joining; a great many of his products have been purchased by customers around the world, especially in the U.S.A.
Photo gallery:  Typical product made by Martin Cvrček – an absolutely authentic copy of an English Rudge high-wheel bicycle made using the most modern technology and high quality materials. The bicycle is intended for riding and full loading.
album: Ing. Martin Cvrček