Museum Enzo Ferrari Modena, Italy - Italy - Velo museums - Velo museums - STERBA-BIKE.cz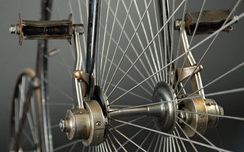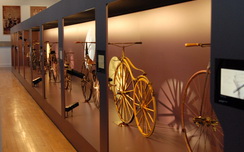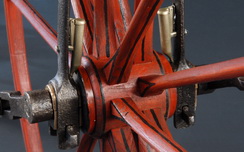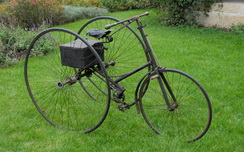 Museum Enzo Ferrari Modena, Italy
The modern museum is a pure car museum. Thanks to the combination of Enzo Ferrari and Ernesto Colnago in the development and use of carbon in the production of bicycles, the Ferrari brand is also perceived as a concept in cycling.
Address: Via Paolo Ferrari, 85, 41121 Modena MO, Itálie
Contacts: https://www.ferrari.com/en-EN/museums/enzo-ferrari-modena
album: 312/A - Enzo Ferrari Modena
A large part of the new LA Collezione museum in Cambiago, Italy, opening in late 2023, is dedicated to the connection between Ferrari and Colnago.
album: 312/B - Colnago - Ferrari
Colnago Concept 1988
A fantastic first project created in collaboration with the Ferrari engineering department. The machine boasted many innovative features. Mainly carbon fiber frame with fasteners, gearbox integrated directly into the cranks with control on the frame tube. Special aerodynamic three-spoke wheels designed by Enzo Ferrari, retractable stem and hydraulic brake system. The bike was conceived as a vision with a view to the future in 1988!
album: 312/C - Colnago Concept 1988
Giro d'Italia 2012
The start of the fifth stage from Modena to Fano was located near the new museum designed by czech architect Jan Kaplický for Ferrari. Bike exhibition and commemoration of collaboration with Ernest Colnago.
Foto: Libor Matějka – RoadCycling.cz
album: 312/D - Expo Giro d'Italia 2012
"Among the unsightly chipped houses on the outskirts of Modena, Italy, next to an even more depressing railway line, it is a pure revelation. It's as if a futuristic spaceship - a big yellow hunk of technology from the future - has accidentally landed in a dull and sleepy neighborhood.
But if you could soar above it, you might see a fish with gills instead of a ship. Or - and here it is already burning - a car hood with vents for engine cooling. And if you are also from the Czech Republic and remember Jan Kaplický's library in Prague, everything will finally fit into place.
We are in the north of Italy, in front of us is the Museo Casa Enzo Ferrari, where, if you love beautiful cars and architecture like the author of this text, you will be in seventh heaven. This futuristic museum of the founder of the Ferrari car company is the last realized work of the Czech architect Jan Kaplický."
Text: Pavel Kalouš – for full original article have to see Forbes.cz