Maryland Historical Society, Baltimore, MD – USA - USA - Velo museums - Velo museums - STERBA-BIKE.cz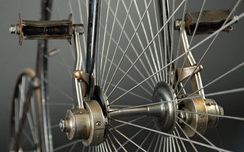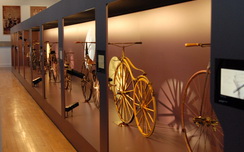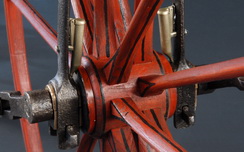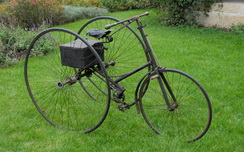 Maryland Historical Society, Baltimore, MD – USA
Maryland Historical Society (MdHS) & It's Collections
The Maryland Historical Society founded in 1844 is the state's oldest cultural institution. Including a museum, library, press, and educational programs, the MdHS collects, preserves, and interprets objects and materials reflecting Maryland's diverse heritage.
Collections include more than 50,000 museum objects (exclusive of archaeological collections acquired from the Baltimore City for Urban Archeology during the Baltimore City Life Museum acquisition) and 7 million books and documents, ranging from presettlement to the present day and representing virtually every aspect of Maryland history and life.
All meetings for the International Cycle History Conference 2014 and the "Show & Tell Historical Bicycle Exhibition" was in the main building of the Maryland Historical Society at 201 West Monument Street near the city center of Baltimore, Maryland. One part of the exposition showed many children bicycles including an elegant childs velocipede which was made by Baltimore inventor Richard Gornell.
Contact:  http://www.mdhs.org/
album: 153 - Maryland Historical Society, Baltimore - USA
The main part of bicycle exposition of 25th International Cycling History Conference -- 2014 ....here
25th International Cycling History Conference — 2014
In 2014 the International Cycling History Conference is celebrating its quarter century. The Conference has been notable for bringing together academics, curators, collectors, and enthusiasts to debate and present new knowledge on all aspects of cycling history. All papers accepted for presentation at the conference will be published in the proceedings of the conference titled "Cycle History – 25". (Note: The proceedings of all ICHC conferences are archived in the US Library of Congress as well as in other important libraries.) The Conference has a notable track record in bringing to light critical, interesting, and previously unappreciated stories from the history of cycling. Examples include such diverse subjects as exposing the fraudulent 'Leonardo' claims to invention of the bicycle, to the role of Col. Albert A. Pope in formation of the bicycle monopoly in 1899, to discussion of the role of cycling in women's liberation.
Contact: http://www.cycling-history.org/