Henry Sheldon Museum - Middlebury, Vermont - USA - USA - Velo museums - Velo museums - STERBA-BIKE.cz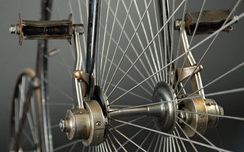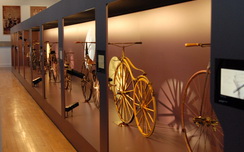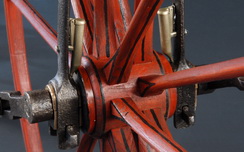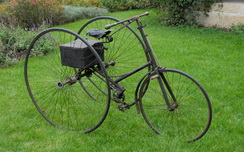 Henry Sheldon Museum - Middlebury, Vermont - USA
Very nice summer exhibit "Pedaling Through History: 150 Years of the Bicycle". The Collection of Glenn Eames.
June 21, 2016 – October 16, 2016
Contact museum: http://henrysheldonmuseum.org/
Contact Glenn Eams collection:  http://www.oldspokeshome.com/home
album: 191 - Henry Sheldon Museum
Pedaling Through History:
150 Years of the Bicycle, The Collection of Glenn Eames
(original text from museum webside)
2016 marks the 150th anniversary of the first pedal bicycle patent in the world. The Henry Sheldon Museum in Middlebury, Vermont celebrates this occasion by showcasing the extensive bicycle collection of Glenn Eames with the exhibit Pedaling Through History: 150 Years of the Bicycle. The exhibit traces the evolution of the bicycle from its inception until today, while spotlighting the bicycle's golden era at end of the 19th century. This period is often referred to as the Gilded Age, a term derived from writer Mark Twain's 1873 The Gilded Age: A Tale of Today, which satirized the era.
The exhibit's high points include the Velocipede or Boneshaker from the 1860s, High Wheel or Ordinary Bicycle of the 1880s, Safety Bicycle of the late 1890s, and a selection of more modern 20th and 21st century road, off road, and fat bikes. Complementing the two dozen bicycles will be historic photographs, ephemera, and bicycle accessories, as well as documentation of the bicycle's impact on women's liberation and children's recreation, health, mobility, and tourism.
During the Gilded Age, these long-spoked bikes were the playthings for the wealthy, who enjoyed leisure time and had energy that manual laborers toiling 12-hour days did not have. In addition, high-wheels were expensive, several thousand dollars in today's money. Riding conditions were difficult. Roads at best were brick or cobblestoned, and muddy or dusty at worst. Cyclists dodged easily frightened horses, streetcars, pedestrians, and dogs. But the payoff was speed when compared to walking.
High-wheel bikes were direct-drive, much like today's fixed-gear bikes. One turn of the pedals attached to a wheel 60 inches in diameter could propel a rider more than 15 feet. But a rider had to be tall enough for his feet to reach the bottom of that pedal stroke. The ride was trickier for women. With their flapping skirts posing a safety risk near the spinning spokes, they began adapting to clothing such as bloomers or even pants but risked the jeers of passersby.
The inveterate, engaging bicycle collector, Glenn Eames will be on hand to answer questions during a reception on Thursday, June 23, 2016 from 5 - 7 p.m. and at gallery talks on Wednesdays July 27, August 17 and October 5 at noon and on Saturday, September 3 at 1 p.m. The talks are limited to 20 people, so call to reserve a spot. Glenn will be participating in a high wheel bicycle demo/ride on Sunday, September 25, 2016 in Middlebury, joined by enthusiasts from The Wheelmen.