Exhibit "An Unspoken History", Elgin County Heritage Centre - Canada - Canada - Velo museums - Velo museums - STERBA-BIKE.cz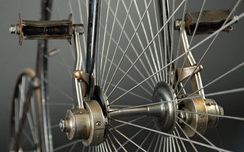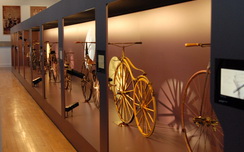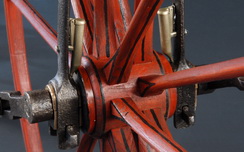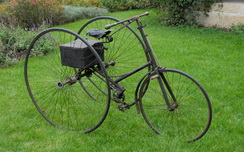 Exhibit "An Unspoken History", Elgin County Heritage Centre - Canada
Selections from the Rick Wolfe Collection 
February 20, 2023 to August 2023
Longtime collector and enthusiast Rick Wolfe currently has one of the most impressive collections of early bicycles and motorcycles on public display at Elgin County Heritage Centre in St Thomas Ontario. Expect to see some very cool engineering and many Canadian built bicycles from the 1800s and early 1900. Some of these are the only known examples in existence.
Velocipedes, high wheels and safeties from the earliest years of the cycling craze in the 1860s right through to the 1920s. Includes the only known example of the Lamson, one of the world's earliest motorcycles. Also featuring trophies, medals, period posters, advertising novelties, and many accessories including oil lamps, horns, and costumes. Tools and equipment from the period can be found in a recreated "repair shop."  
Address: 460 Sunset Dr, St Thomas, Ontario N5R 5X7, Canada
Contact: https://www.elgincounty.ca/museum/
album: 300/A - Elgin County Heritage Centre - Canada
More than 150 smalls, trophy's, medals, lamps etc. This is the "spice" and it is precisely this that is greatly admired by visitors.
We will please the experts, at the exhibition you will find the following machines:
1869 French Velocipede , 1873 French transition ordinary , 1885 Rudge 52inch Roadster, 1885 Star 52 inch  with original pant guard, 1888 CMC Club Kangaroo , 1890 CMC Irish Swift hard tire safety , 1898 Crypto Alpha Bantam , 1896 Rex , 1896 J. P. McClouskey bentwood lady's safety , 1896 Spalding chainless with patent steering wheel , 1896 Evans & Dodge mans safety made by automobile fame Dodge Brothers, 1897 Orient racing bicycle, bicycle was rode in 1936 Berlin Olympics, 1905 Racycle racer 12 inch chain ring, 1905 CCM Red Bird cushion frame, 1897 Crescent mans safety , 1910 CCM Massey, 1897 period bicycle shop equipment, 1901 Lamson motorcycle made in Abington Mass. USA "The only one known"

I'm in contact with Rick, we've never met in person but I feel we're like very close. Like me, Rick likes to welcome friends and Wheelman into his collection for lots of conversation. He is willing to share his collection with other friends and the public. This is very important for spreading interest in history and for a new generation of collectors.
More Facebook: https://www.facebook.com/rick.wolfe.315
Photos: Rick Wolf and Larry Strung
Here are some photos of his private collection.
album: 300 - Rick Wolfe Collection