Copake Auction Trip and Bicycle Swap Meet 2018 - Information mix - Information mix - Information mix - STERBA-BIKE.cz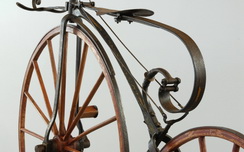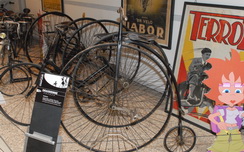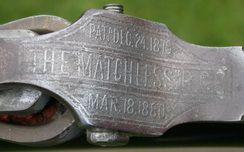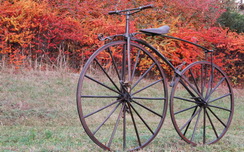 Copake Auction Trip and Bicycle Swap Meet 2018
Day 1 - Velcome in the USA 
New York is full of temptations. New York is especially for us Pryor Dodge and his bicycle collection. Pryor is a photographer, and a professional musician, dancer, and great history expert and a bicycle collector. One night there and early morning direction museums and antik bicycles ....
album: New York 2018
album: Pryor Dodge Bicycle Collection, New York
Day 2 – Friends, bikes and The Bicycle Railway
Good breakfast and first stop. Very nice private collection. Many and many bikes in original condition. Some of them we have never seen before ... Lovely start of our journey.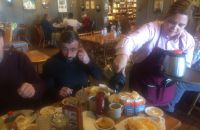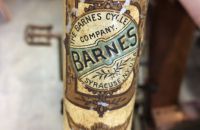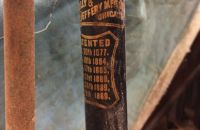 album: First stop
Bicycle Raillway, Smithville  – NJ, USA
In 1891, four years after H.B.Smith´s death, Arthur E. Hotchins approached Smith Company officials to discuss plans for the production of his latest invention, an elevated bicycle railroad. A finished prototype served as a test model for bicycle railroads throughout the United States.
The Smith Company agreed to invest in this invention. The company´s mechanics completed the prototypes of the bicycle-like conveyance by the end of 1891 and tested these pedal-powered vehicles on a 200-foot section of track erected at the factory.
Smithville presented an ideal setting to demonstrate the railway. The most direct route between Mt. Holly and Smithvile lay along the creek´s level floodplain, making it possible to built the bicycle railroad on undevelopment land.
During good bussines times, the H.B. Smith Machine Company employed men from Mt. Holly. They walked the two miles to Smithville or took the train, but the station location was not convenient to most of the workers´ houses. This made the construction of the bicycle railway between the towns a practical proposal.
album: 228/A - Smithville museum
The pictures were showed for 27th International Cycling History Conference, Nort Haven, USA, 2016.
album: 228/B - Bicycle Raillway
Three early Stars in front of Mr.Smith´s house – c.1881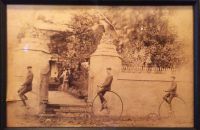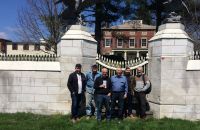 album: 228/E - Three Stars
Star Riders – Words & Music John Ford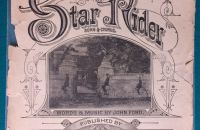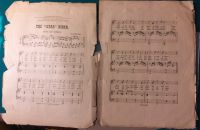 album: 228/F - Music John Ford
H.B.Smitha Wood Working Machinery in time.
album: 228/C - H.B.Smith Company
The Future of Transportation: The Bicycle Railway
By Dennis McDonald, Medford, New Jersey – one of article of  27th International Cycling History Conference, Nort Haven, USA, 2016.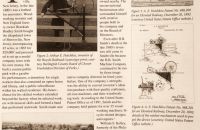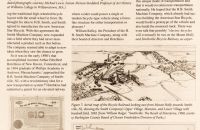 The Devil´s gear shop – New Haven
A little delay. We passed a very interesting shop in New Haven and we are trying to be on time to our friend - of course - a great collector of bicycles. Photos from 2016 when we were there.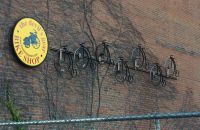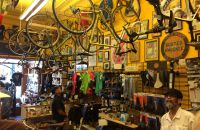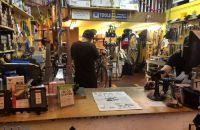 album: The Devil´s gear shop
Massachusetts - the Joy of Meeting Friends
Late evening in not the best time to study bicycle collection. We have to be there again in the morning.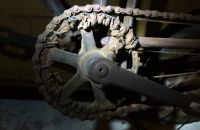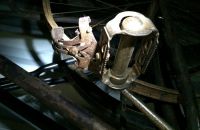 album: Night Tour
Day 3 – Major Taylor and Copake
Short stop to honor the monument of one of the best bicycle racer ever.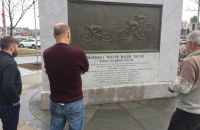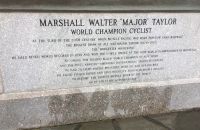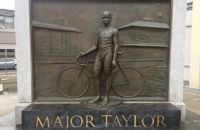 album: Major Taylor
Copake – Once a year all bicycle collectors are here
album: Copake - one day before
Day 4 - Bicycle Swap Meet
At past Swap Meets we've had bicycle enthusiasts here from as many as 29 states as well as Germany, England, Canada, and the Netherlands. Come search for that hard to find part, or set up your best bikes and parts for all to see!
album: Bicycle Swap Meet 2018
Many friends....  foto taken by David Toppin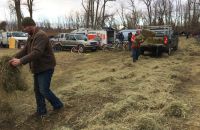 album: Bicycle Swap Meet - friends
Day 5 – Copake Auction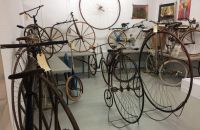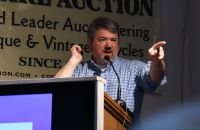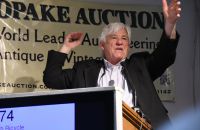 album: Copake Auction 2018
When you are at the right time in the right place, you will occasionally see a really interesting treasure.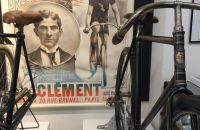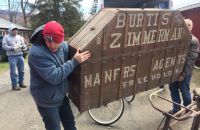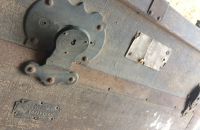 album: Zimmerman box
Day 6 – Buffalo
The Buffalo Transportation Pierce Arrow Museum and a new exhibit on Buffalo's Bicycles (1860s - 1920s). 
The collection of vintage bicycles and rare cycling memorabilia from the collections of Jim and Mary Ann Sandoro, the Burgwardt Family and the former Pedaling History Museum. 
Contact: http://www.pierce-arrow.com
THE BUFFALO TRANSPORTATION PIERCE-ARROW MUSEUM HONORS AND PRESERVES THE COMPANY'S LONG AND PRESTIGIOUS HISTORY. 
The Pierce-Arrow Motor Car Company was a symbol of one of Buffalo's most significant eras of growth, prosperity and of American innovation and ingenuity.
Niagara Falls – very important place, Niagara bicycle – very importatnt part of history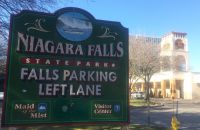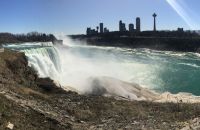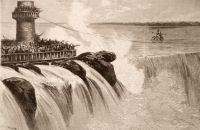 album: Niagara Cycles
Day 7 - Henry Ford Museum, Dearborn, MI – USA
The Pompous Museum, unfortunately, when we visited it in 2018, only two bikes are exposed to the public, although a large and valuable collection is hidden in the depository.
Henry Ford said of his museum: "I am collecting the history of our people as written into things their hands made and used.... When we are through, we shall have reproduced American life as lived, and that, I think, is the best way of preserving at least a part of our history and tradition."
Photos of bicycle display from 2005 (taken by Mr. Zdeněk Měsíček)
Cars and planes
President cars
Witty Velocipede
June – July 1868, Made by Calvin Witty of Brooklyn, NY under order of the Hanlon Brothers, copied from Lallement patent drawing. Non adjustable saddle or pedals.
One of America´s first velocipedes.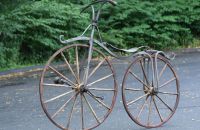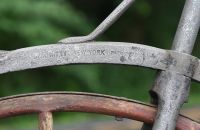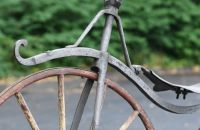 album: Witty Velocipede I
Automobile museum – Auburn, Cord, Duesenberg
If you are too late....
National Auto & Truck Museum, Auburn, Indiana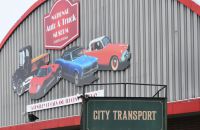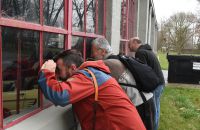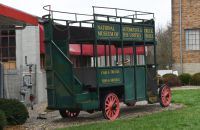 Day 8 – The Bicycle Museum of America –New Bremen, OH - USA
The Bicycle Museum of America, one of the largest private collections of bicycles in the world. It features bicycles and memorabilia, obtained recently by Jim Dicke of Crown Equipment Corporation, the international manufacturer of electric lift trucks, native to New Bremen.
Contact:  http://www.bicyclemuseum.com/
New treasure
Hard tire safety with suspension wheel was arrived to musem in 2017. It is very nice and original bike - very rare - probably a prototype.
Pictures from museum – public rooms
Harley Davidson collection

Depositary of museum
This  Museum has more than 300 bikes on store and more than 1.000 in rotacion.
Day 9  – Chicago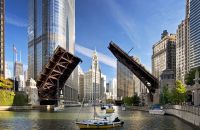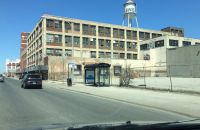 album: Chicago
Owner Mark Mattei has amassed one of the broadest and most eclectic collections in the USA. And in addition to being a busy in-the-city bike shop! Pictured here is just a small part of the goodies to see....
Contact: http://www.cyclesmithy.com/
 Chicago is the third most populous city in the United States, so a lot of collectors are there....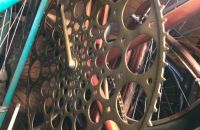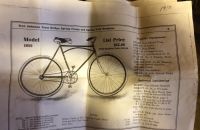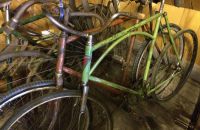 album: Many surprises
Day 10 – Best to the End
Carey Williams is a representative of Chicago, a friend and one of the largest bicycle expert early velocipedes and high wheels, organizer of many conferences, historical presentations, author of many articles on the history of bicycles. We had to opportunity to see and discuss his collection.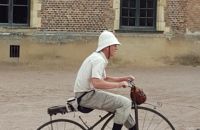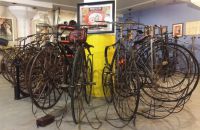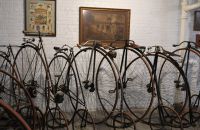 album: Early bicycles
Witty Velocipede
June – July 1868, Made by Calvin Witty of Brooklyn, NY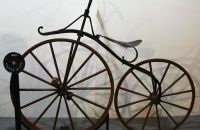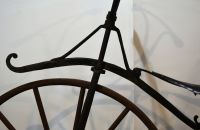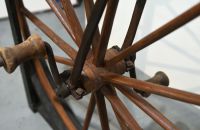 album: Witty Velocipede
Warwick Cycle Manufactoring Co.
The best high wheel I have seen this USA trip. A suspension bearing for front wheel. Warwick Cycle Manufactoring Co. Produced the "Warwick" high-wheeler and solid tire safety in Springfield, Ma. USA, from 1889-98 and the "Ghost" and "Pilgrin" in c. 1892. Had a London showroom at Golden Line in 1898.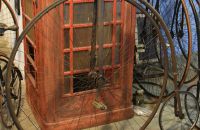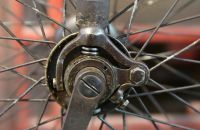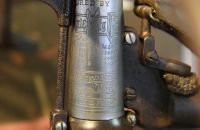 album: Warwick
Day 11 – The End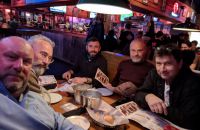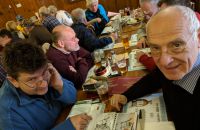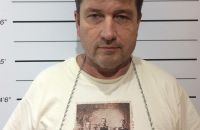 album: Happy End
Info mix