Collezione velocipedi e biciclette antiche A. & C. Azzini, Soresina, Italy - Italy - Velo museums - Velo museums - STERBA-BIKE.cz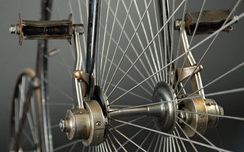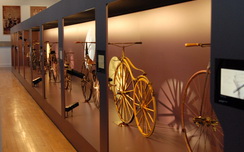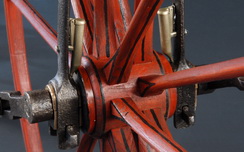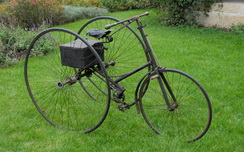 Collezione velocipedi e biciclette antiche A. & C. Azzini, Soresina, Italy
We had the opportunity to personally walk through the entire museum accompanied by both owners in 2022. It was a huge pleasure to see not only a cross-section of the bike's development, but entire blocks dedicated to local brands. This is what a museum should look like! This is the reason why collectors from all over the world will come and discover new and unknown technical treasures here. Their museum and exhibits are fantastic. The beautiful philosophy and attitude towards collecting is convincing. Alfredo and Carlo Azzini say: "We paid great attention to the conservation and restoration carried out in our restoration center. We study every detail, every difference. During many years of passionate research, we were guided by only one consciousness: although we are now the momentary owners of these treasures, our mission is only and exclusively one idea: to preserve and protect them and finally leave them to future generations with full respect for bicycle history."
Address: Palazzo Vertua Robbiani, via Robianni, 2 - 26015 Soresina (CR), Italy
Contact: www.velobiciantiche.it
Facebook: https://www.facebook.com/velobiciantiche/
album: 242/A - Collezione A. & C. Azzini
A private museum present 10 main sector with circa 200 bicycle, they cover up the period between 1818 and 1955. There're several typology of partition in order to have a clear image of the evolution of the bicycle. The Museum will be open only in the time table available in Facebook at the page Velocipedi e biciclette antiche collezione privata A & C Azzini and if you won't find a date there you can have a reservation just for you in the weekend simply by keeping in touch in facebbok's page.
album: 242/C - Collezione A. & C. Azzini
The A. & C. Azzini Museum hosted the 32nd INTERNATIONAL CYCLING HISTORY CONFERENCE in 2023
album: 32th ICHC 2023
Photos taken when participants visited the museum in May 2023
album: ICHC 2023 time in museum
The summer exhibition METAMORFOSI MECCANICA organized at the beginning of June 2019 on the occasion of the famous Giro d'Italia visited also the legendary Vicenzo Nibali (in the photo) was a selection of the collection of historical bicycles "Collezione velocipedi e biciclette antiche A. & C. Azzini"
Photos: A. & C. Azzini
album: 242/B - Collezione A. & C. Azzini