California Bicycle Museum, Davis, CA - USA - USA - Velo museums - Velo museums - STERBA-BIKE.cz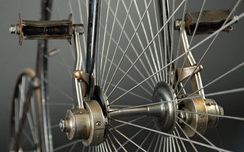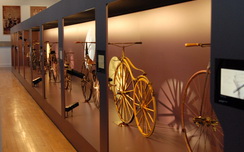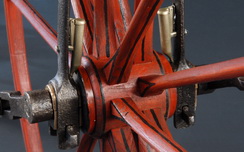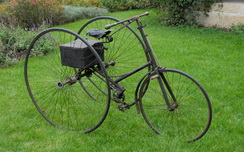 California Bicycle Museum, Davis, CA - USA
The vintage bicycles depicted here are from the Pierce Miller collection owned by the University of California in Davis. Pierce Miller was a rancher near Modesto with an avid interest in the history of transportation. He amassed over one hundred horse-drawn vehicles of every description, a handful of antique automobiles, and a large collection of bicycles. Miller exhibited the vehicles and bicycles in a roadside museum of transportation history until his death in the 1960s. In the 1940s, Miller purchased the entire bicycle collection from Walter Nilsson, a well-known vaudeville performer whose stage specialty was acrobatic bicycle and unicycle riding. Nilsson collected the bicycles while on tour around the world with his cycling act.
The University bought the Miller Collection in 2000 when it became available for sale. A federal Transportation Enhancements grant was the primary funding source.
UC Davis, the City of Davis, and an avid group of cycling and history enthusiasts are looking for a permanent exhibit space for which the Miller collection will provide the core of what is planned to be a major bicycle museum.
Contact: http://taps.ucdavis.edu/bicycle/resources/pierce_miller_collection
Video How Miller collection was transferred from its original home to Davis: https://vimeo.com/64667629
Thank you for photos to Transportation Services University of California