High wheel with suspension seadle MEYER c.1875/80 - Bicycles - Bicycles - Bicycles - STERBA-BIKE.cz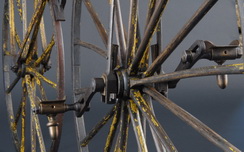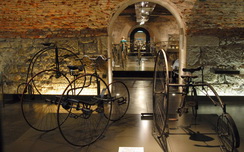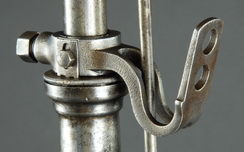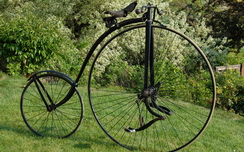 High wheel with suspension seadle MEYER c.1875/80
click on picture to enlarge
Very interesting high wheel with many very atypical details. The suspension system is very similar to the later Clement et Cie systém from Paris, this Clement patent was often offered to other companies and so appeared on many other brands. However, this suspension system is different. There is a bronze "MEYER PARIS" emblem on both sides of the suspension system. From years of experience, I add: "The backbone, fork and connection of the backbone to the fork head the handwriting of Meyer machines, as well as the rear hub. In contrast, the suspension, front hub and front hub bearings are similar to the Clement. I personally saw the same machine and Meyer inscriptions years ago in Holland. So there is a high probability that Meyer used some dents from Clement, or created a machine according to the requirements of specific customers, or a small series for exhibition or promotion. In any case, these question marks add to the interest and originality of the machine".
Description
Very fine and fully original suspension high wheel bicycle by Eugene Meyer, Paris. Traces of original black paint and yellow lining. 116 cm front wheel, with two  fine mounting steps. Meyer bronze plaque either side of the suspension spring. Complete with hub lamp. Superbly fine in every detail, as were all machines signed by Meyer. Machines by Meyer are a must have for any collection, or museum, and very rarely appear on the market.
Original and very rare hub lamp going with the bicycle!!!!
Origin: France
Buy
| | |
| --- | --- |
| Price | 12 900,- € |
| Availability | |
| Part number | 509 |
| Year: | c.1875/80 |
| Buy | |
ESHOP / For sale
Archives / Sold