High wheel RUDGE & Co., Limited No.2 – 54" c.1887 - Bicycles / Archive - Sold / Archive - Sold / Archive - STERBA-BIKE.cz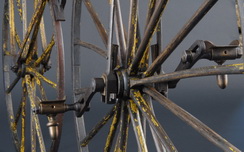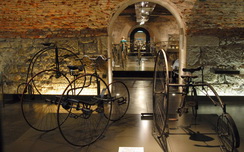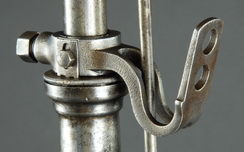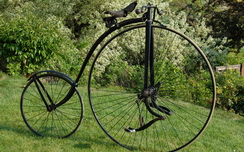 High wheel RUDGE & Co., Limited No.2 – 54" c.1887
click on picture to enlarge
Absolutely uncredible original condition:
- original paint on the fork and rims, the frame is repainted in some parts (very difficult to recognize what is the original and what the color correction
- original nickel, unpolished, unrestored
- original tires front and rear
- original grips
- original saddle (new leather)
- all original components (only replica pedals but a great patina, indistinguishable from the original, made exactly according to the original Rudge pedals)
Front wheel size: 54 "
Origin: French imports
Description
Extremely rare and original condition of the Rudge English high wheel. It is a sports machine modeled on racing specials with a seat mounted directly on the backbone. Detachevable handlebars (specialty just manufactured by Rudge) have no traces of the brake lever. The bike was actually made without a front brake. According to serial number 36196 and a comparison with the register of preserved Rudge machines, it is possible to determine the year of manufacture 1887.
Buy
| | |
| --- | --- |
| Price | - |
| Availability | |
| Part number | 504 |
| Year: | 1887 |