Boneshaker - original paint, c.1869/70 - Bicycles - Bicycles - Bicycles - STERBA-BIKE.cz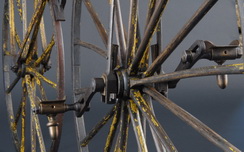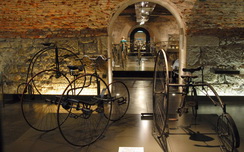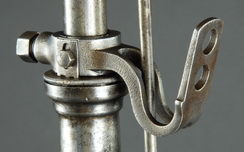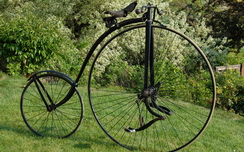 Boneshaker - original paint, c.1869/70
click on picture to enlarge
Wheel size: front 92 cm and rear 78
(corresponds to the English measurement 36" and 30")
Description
A beautiful original velocipede for an adult rider.
Origin: imported from England.
Manufacturer: unknown (most likely England or Ireland - we estimate based on our experience based on shape and details.
 The machine has three unique design details:
1. decorative "mustache" - footrests
2. narrow and special backbone profile (machine frame)
3. completely atypical suspension system of the saddle spring
Original condition, undamaged, original color, wooden wheels in good condition, replica saddle and modern leather.
Possible for decoration, museum or ride.
Buy
| | |
| --- | --- |
| Price | 3 500,- € |
| Availability | |
| Part number | 580 |
| Year: | 1869/70 |
| Buy | |
ESHOP / For sale
Archives / Sold