Velociped Cie Parisienne, Paris - France c.1871 - Bicycles / Archive - Sold / Archive - Sold / Archive - STERBA-BIKE.cz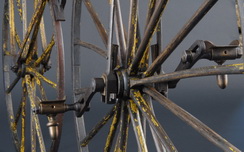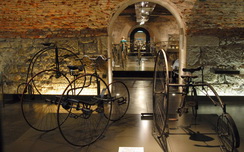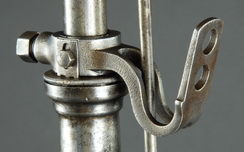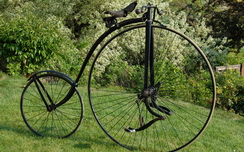 Velociped Cie Parisienne, Paris - France c.1871
click on picture to enlarge
Front wheel diameter 94 cm, rear 79 cm.
Absolutely complete machine, all parts original. Serial number 2655. wonderful remnants of color. The lining and overall condition of the wooden wheels is absolutely unique. Of great interest is the numbering of the front and rear wheels on the hub. For all my work in researching bicycles, I have not seen such a clearly preserved numbering on wood. Great rarity and interest.
The Michaux and CP register of serial numbers, which has been built up for years, has not yet known this serial number. This is a new discovery and a beautiful museum or collection piece.
Origin: ex private collection of France
Description
Beautiful velocipede of the famous French company Cie Parisienne ANCNE MAISON MICHAUX & CIE., Cie PARISIENNE, 27 Rue Jean Goujon, PARIS (July 1871 - August 1874), which followed the production of Compagnie Parisienne. Most of the production was from the beginning of the company's activities - after the Prussian-French War (July 19, 1870 to January 28, 1871), because during the war the company switched to weapons production and after it tried to resume the production of bicycles.
Buy
| | |
| --- | --- |
| Price | - |
| Availability | |
| Part number | 513 |
| Year: | c.1871 |