Simpson "Lever" Chain - Specialized articles - Specialized articles - Specialized articles - STERBA-BIKE.cz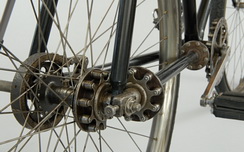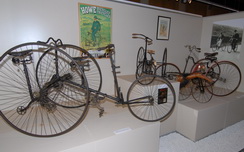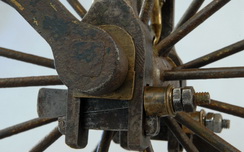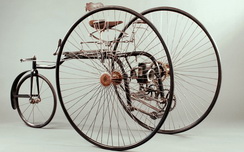 Simpson "Lever" Chain
Simpson "Lever" Chain, a much boomed novelty which enjoyed a brief but hectic career, 1895 - 1897. The first patent William Speir Simpson took 27th December 1894.
album: Simpson Lever Chain 1
In September 1895 a company was formed to make and sell the new chain, on 27 September Simpsons Lever chain (Foreign and Canadien) Co. Ltd., was registred with a capital of a million pounds to acquire, develop and work overseas patents.
Simpson Lever Chain and Cycle Co. Ltd. was a maker of the simpson lever chain, this company premises at 110 Regent Street, London and works at Draycott, Derbyshire. This maker offered his own bicycles under name "Simpson" lever chaines have been used by many riders on other bicycles.
"The great Humber Company took up the idea and the famous Gladiator firm of Paris adopted it. The result was that riders using the chain began to swep the board, and by January Simpson lever chain riders had made all the existing word's records from a quarter of mile to forty-for miles, and since than the successes have been constanc!!!!". 

Wrote The Illustrated London News 20th June 1896
Derek Roberts for "The Boneshaker" No.28 - Volume 3, summer 1962
"Now that the bicycle has, we are often told, reached perfection it is difficult to realize the interest that could be created seventy years ago by the introduction of anything claimed to make cycling easier. Among the novelties of the nineties was the "lever" chain of William Speir Simpson, a civil engineer of 49 Battersea Park Road, London. He took out three patents (25 150 - 27.12.1894, 11 598 - 14.6.1895, 16 366 - 31.8.1895) for an invention which was to effect certain improvements in connection with chains and chain wheels used with cycles in order that power exerted in driving could be considerably reduced, consequently with less fatigue to the rider. The first patent showed the device in rudimentary form, the second incorporated a second chainwheel midway between bracket and hub, the third was the contraption that was launched on the unsuspecting public."
Derek Roberts - whole text: "The Boneshaker" No.28 - Volume 3, summer 1962:

album: Derek Roberts "Simpson"
H.W.BARTLEET: The Story of Cycles and Cycling (printed and publisher in 1931):
"I have already quoted the very un-original remark that the worls is small. Here is another instance. My next door neighbours on one side, two elderly gentlemen, retired officials of the L.B. & S.C. Railway Co., asked to be allowed to inspect my collection. They are not - and never have been - cyclist and have no direct interest in cycling. The first thing that met their eyes as they entered the museum was a specimen of the Simpson Chain, to my surprise, they greeted it an old friend, it reminded them of an unusual incident in their lives, when, many years ago, in the horsed railway van of which they had charge, they conveyed a number of racing bicycles and packing multi-cycles from Victoria Station to Catford track. They remembered the incident well, as the riders were nearly all foreigners, and (as my visitors explained) "jabbered away in France all the time the machines were being loaded and unloaded." The to railwaymen had assisted at one of the greatest cycling events ever held, viz: the Simpson chain versus plain chain matches at Catford Track on 6th June, 1896. It will be remembered that Dr. F.F. MacCabe accepted a challenge by the inventor of the Simpson "lever" chain, and put up three professional riders on "plain" chains against three nominees of the Simpson stable. The races resulted as follows:
5 miles: C. F. Barden (plain chain) beat J. Michael (Simpson) who retired at 2 and 3/4 miles.
1 hour: Tom Linton (Simpson) beat J. W. Stocks (plain chain).
50 miles: Constand Huret (Simpson) beat A. A. Chase (plain chain).
The packing instruments used were said to be worth Pound 2000: the Simpson team comprised 12 quads, a quint, and several triplets. Michaels riding in the short distance race compelled the National Cyclists Union to enquire into his condition: it was found that he had been drugged by his own trainer, "Choppy" Warburton, who was consequently warned off all tracks. Arthur Linton died 23rd July, 1896, aged 26. "Choppy" died 17th December, 1897, aged 54. He had been a famous foot runner, and was born at Cob Castle, near Haslingden. Tom Lindton died in France, 1915, aged 39. "Jimmy" Michael died on the voyage to New York, in November, 1904m aged 28."
album: Simpson Lever Chain 2
Some preserving examples - There is realy not a lot around us!!!
album: Simpson Lever Chain 4
SIMPSON CYCLES - London, Catalogue 1896
album: SIMPSON CYCLES (Simpson "Lever" Chain) - 1896
Simpson Lever Chain and Regency from the Biczycle Collection
Manufactured by the Regency Cycle Works, Peasedown St John, Bath, Somerset, England with the chain Simpson Cycle Co. Ltd., 119 Regent Street, London, England.
album: Simpson Cycle Co., Ltd (Simpson "Lever" Chain), London, England - 1896
The Bicycle by Pryor Dodge (© 1996 Flammarion, Paris) - Simpson Lever Chain
Simpson Lever Chain. The tops of the triangles had cross-bars that engaged the perimeter of the rear chain wheel's flange.
..........
 In the meantime, technological experiments continued as manufacturers and inventors sought ways to reduce the power necessary to pedal. Such was the object of William Spears Simpson's invention of 1895 (patent 27th December 1894), the Simpson Lever Chain. The main feature of the chain was its method of engaging the rear chain wheel. The tops of the triangles had cross bars that engaged the perimeter of the rear chain wheel's flange at a much greater distance from the wheel's axis than would an ordinary chain and chain wheel. Thus Simpson could claim that his chain provided more power through greater leverage.
 In the fall of 1895, Simpson offered ten-to-one odds that riders with his chain would beat bicyclists with regular chains. Later known as the Chain Matches, these races at the Catford track in London attracted huge crowds estimated between twelve and twenty thousand in June of 1896. Simpson's team not only included the top racers - Tom Linton, Jimmy Michael, and Constant Huret - but also the Gladiator pacing team brought over from Paris. Pacers enabled a racer to ride faster by shielding him from air resistance. Altho
ugh Simpson won the Chain Matches, they only proved that the Gladiator pacers were superior to their English rivals.
Waltham Comet USA 1897 and Simpson Chain
album: Waltham Comet and Simpson
Small example from the collection of Jules Beau with "Simpson bicycles"
Original: Collection Jules Beau. Photographie sportive] : T. 2. Année 1896 / Jules Beau
From Gallica at the Bibliotheque nationale de France
album: Collection Jules Beau - Simpson Cycle
Henri de TOULOUSE-LAUTREC
 France 1864 – 1901
 The Simpson chain [La chaîne Simpson] 1896
 brush, crayon and spatter lithograph, printed in three colours
 85.1 (h) x 121.9 (w) cm Art Gallery of New South Wales, Sydney Purchased 1945
Lautrec created the image The Simpson chain [La chaîne Simpson] for the English cycling company, Simpsons. He was enthusiastically fond of sport, despite his own physical shortcomings, and had been introduced to the French representative for the Simpson company. Lautrec was a journalist and comic writer for La Revue blanche. However, by the 1890s at various times he managed two velodromes in the Paris surrounds – Vélodrome Buffalo and Vélodrome de la Seine. He was also the editor of the magazine Le Journal des vélocipédistes.
album: Henri de TOULOUSE-LAUTREC
Tom Linton - one of famous racers Simpson's team
David Black is actor and writer from London. We found an interesting article on his blog:  http://davewrotethis.blogspot.cz/
"Some years ago I wrote this about my great-great-uncle, Arthur Linton. While Arthur was easily the most successful in the family, his brothers, Tom and Sam, were both professional cyclists as well. I've been meaning to write about both of them for some time, but I knew so little about either of them. In order to redress the balance, I've been doing a bit of research starting with Tom:
Tom was born on the 13th of June 1876 in Aberaman in South Wales. He was a professional cyclist from 1896 to 1903. In 1894, in one month he broke records for the time he took to cover 1 kilometre, 10 kilometres, 100 kilometres, 5 miles and he also won an 8 day event. In 1896, he became the first rider to cover 30 miles in one hour. He competed in the unnofficial races at the Paris Olympics in 1900. He died of Typhoid Fever in 1915, aged just 39, in Levallois in France.

Tom Linton is pictured in an advert for Dunlop, a company his great-nephew (and my father) would work for a half a century later.

Astonishingly, Toulouse-Lautrec once drew Tom as part of an abortive advertising campaign for the Simpson Bicycle Chain. Tom is in the foreground on the bike, while the figure rooting through the bag is reported to be the controversial trainer Choppy Warburton linked to a number of drugs scandals. The final design is less risky, but also somewhat less impressive."
album: Tom Linton
Specialized articles