SALON CHAMPENOIS Reims 2023 - France - Information mix - Information mix - Information mix - STERBA-BIKE.cz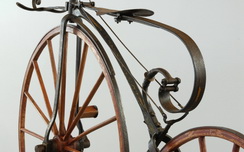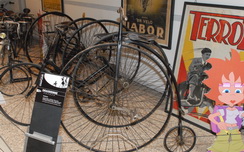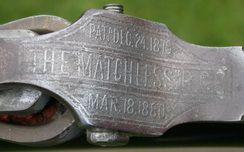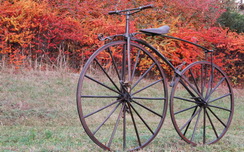 SALON CHAMPENOIS Reims 2023 - France
The traditional French stock exchange has opened the season. It was no different this year. Lots and lots of people, great atmosphere and great trophies for many.
album: Reims 2023
E.Vincent -Paris
One of the first manufacturers of velocipedes, which entered the beginnings of bicycle production, was the French manufacturer E.Vincent. Production ended after 1870 due to the Franco-Prussian War. The Vincent high wheel was the only one known to me until this year. The second example was for sale in Reims this year.
album: E.Vincent -Paris
Circuit Reims-Gueux
The first race - the "Grand Prix de la Marne" - was held here in 1926. The original circuit measured 7.816 km and the finish line was located on the D27 road. Before the 1938 French Grand Prix, the circuit was modified for faster driving and many After this reconstruction, the French GP was held at this circuit.
In 1947, grand prix racing returned to the circuit, the first formulas were tested here in 1948-1949, at which time new grandstands were built at the Gueux / La Garenne and Thillois corners. In 1950, a race was held here, but after the sixth round it was found that the circuit did not suit the accelerating technologies of Formula 1. Therefore, extensive reconstruction began on the circuit.
In 1952, the line was reconfigured to bypass the village of Gueux, via the (then) new section of the D26, reducing the circuit to 7.152 km. The circuit was renamed "Circuit de Reims". Preparations for the "12h of Reims" also continued, which also meant the extension of the D26 to the new junction "La Garenne" (about 1.2 km west of the original "La Garenne" turn). which resulted in the extension of the circuit to a length of 8.372 km. The last adjustment took place in 1954, when the turns "La Garenne" and "Thillois" were reconstructed, which resulted in a shorter and final circuit length of 8.302 km.
The last Formula 1 grand prix was held here in 1966, other stock car competitions ended here in 1969 and motorcycle racing continued for another 3 years. In 1972, the circuit was canceled for financial reasons.
album: Circuit Reims-Gueux
Info mix