Research Expedition - ITALY 2022 - Information mix - Information mix - Information mix - STERBA-BIKE.cz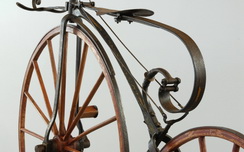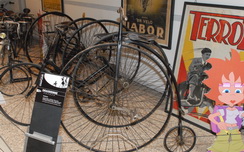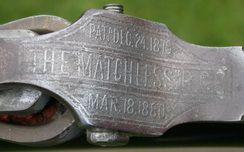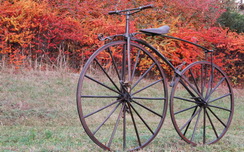 Research Expedition - ITALY 2022
Day 1 - Stop in Graz, Austria and welcome to Italy!
Our trip to Italy led through Austria, so the stop in Graz, the city where the Puch and Styria brands were born, was a clear choice. The local brewery stands next to the museum and proclaims: "Wherever there is a good atmosphere, Puntigamer light beer is suitable." So we were right.
album: Stop in Austria
Johan Puch Museum, Štýrský Hradec - Rakousko
The history of Johan Puch is very rich and would deserve a more dignified appearance. However, if you are a lover of bicycles or motorcycles or even the brand Puch or Styria, it does not hurt to stop in the city where the whole history of the brand began.
Contact: https://www.johannpuchmuseum.at
Address: Puchstraße 85, 8020 Graz, Rakousko
album: 275/A - Johann Puch Museum, Graz - Austria
Lovers of sports bikes should have it mandatory here. The prototype of the aluminum aero road is definitely worth attention.
album: 275/B- Johan Puch Museum, Graz - Austria
If you are looking for information about the beginnings of production in Graz, get the book by Walter Ulreich and Wolfgang Wehap. It is perfect full of verified information.
album: 275/C- Johan Puch Museum, Graz - Austria
Our database of catalogs and information is rich: a small tasting
Johann Puch - 1900
album: Puch 1900
You can find other Puch catalogs HERE in section "Catlogues"
Styria (Johann Puch & Co.,) - 1894
album: Styria 1894
Italy welcomed us with high hills, beautiful weather, delicious food and a nice atmosphere.

album: Cassa Valcelina - Maniago
Day 2 - The first Italien Museum and Winery of the Moser family
Museo Storico della Bicicletta, Toni Bevilaqua (Collezione Sanvido)
Sergio Sanvido (former racer and bicycle dealer) inaugurated the Historical Bicycle Museum in 1997, named in memory of a great man of the past, the Venetian Toni Bevilacqua, world champion in 1950 and 1951. The museum was originally located in the house di Sergio, on the ground floor, near of the historic bike shop that still bears his name.
In 2007, Sergio himself donated a large part of his collection to the municipality of Cesiomaggiore, and it was then moved to the top floor of the town's elementary school, which was converted for museum purposes. And we must state that this collection can boast one of the most interesting collections in Italy.
Contact: https://www.museostoricobicicletta.it/blank
Address: Via Grei 6, Contrada Anquetil, Cesiomaggiore, Belluno, Italy
album: 277/A. Museo Storico della Bicicletta
Giuliano Calore (was born 1938) is an italien racing cyclist, world champion of extreme cycling, holder of 13 records and winner of 98 medals. He establish 13 records in the Guinness Boook of World Records from 1981 to 2011.
album: 277/B. Museo Storico della Bicicletta
At the Storico museum, we had to say goodbye to the friendly staff, figure out what we needed to measure (among other things, we discovered a hitherto unregistered Cie Parisienne velocipede!), research and take photos.
album: Adié Storico
We had to recover quickly from the beautiful bikes in the museum and the wonderful nature, and after a quick lunch, we moved to Trento, where a truly special host awaited us.
album: Trip to Trento
Francesco Moser Winery and Museum, Trento – Italy
Famous families associated with cycling for generations. Directly in the winery is a small museum dedicated primarily to the career of the most famous of the entire Francesca family. Moser is also known as a bicycle manufacturer, so in the museum you will find bicycles on which significant victories and world records were achieved.
Contact: https://mosertrento.com/en/
Address: Maso Wart, Via Castel di Gardolo 5, 38121 Trento, Italy
album: 278/A. Moser - Trento, Italy
If when you say the name Francesco Moser, you don't immediately think of his world records in the watch, take a look at the last photo, which lists his most famous results.
album: Do you know Francesco?
One of the most famous winemakers in and around Trento is Francesco Moser and his family. Former cycling world champion, Giro d'Italia winner and three-time Paris-Roubaix winner. It is surprising that Trentino, so mountainous, gives birth to such delicious wines. But winemaking in the region is at least 3,000 years old, so it's not such a big surprise, you must have learned something over those thousands of years. In addition, every afternoon a beneficial wind blows from Lake Garda. And the view – the vineyards in front of us, and if we raise our heads more, behind them the mountains rise in the haze, simply stone Trentino. A magnificent amphitheater of vineyards and mountains.
album: Visit of winery
The evening arrival at Garda, where its owner, great chef and bicycle collector Pierluigi Faré, was waiting for us at his hotel was very pleasant. A short bike ride, one beer with a lake view and an epic dinner.
album: Evening at Garda
Gianni Bugno is a former Italian cyclist. He raced from 1985 to 1998 and achieved 72 victories. He became the world champion in the individual road race of the elite category in 1991 and 1992, and took third place at the 1990 WC. He is a personal friend of our host "Gigi" Faré and just today he also visited his hotel. To make matters worse, we saw his bike today in the Francesco Moser museum.
album: Gianni Bugno
After dinner, the host prepared a big surprise for me and filled my hotel room with bicycle catalogs and period magazines, so that it immediately became a brilliant study and the program until the late hours of the night was secured.
album: Night study
Day 3 - The first private collection and a gigantic museum of not only cars
Ciclocollection - Museo di Biciclette, Riva del Garda – Italy 
A private collection of bicycles - a small museum is located in Hotel Virgilio from Riva del Garda. Here, bicycle lovers can view a rare and exclusive collection of about 100 vintage bicycles. I recommend you to be attentive, because a careful eye will not miss a number of rare systems and interesting things on individual bikes. Most of the exhibits are in their original authentic condition. Absolutely TOP condition.
The curator and owner is Farè Pierluigi, a great cycling enthusiast who for more than twenty years has been recalling the history of the bicycle, which is fascinating, ever-evolving but also, unfortunately, gradually disappearing, as he likes to say.
Contakt: https://www.ciclocollection.it
Address: Via Virgilio, 21 - 38066 Riva del Garda (TN), Italy
album: 279/A. Museo di Biciclette - Riva del Garda
If a competent person accompanies you through the collection and if it is also the owner, the interpretation takes on a completely different level. Thanks Gigi!
album: 279/B. Riva del Garda - meeting with the owner
Although they don't like it... we are leaving Grad. A quick beer instead of lunch and a wonderful, huge museum awaits us in Verona. Unfortunately badly in some parts very badly air-conditioned.
album: We leave garda
Museo NICOLIS, Verona - Italy
Privat technic and transport museum near Verona. There is a big collection cars, motorcycles and bicycles. All bicycles are showed as overview progres bicycle, there are specially race machines from 19420 to 1940.
Address: Viale Postumia - Villafranca di Verona, (VR) - Italy
Contakt: http://www.museonicolis.com/ 
album: 52/A. - Museo NICOLIS, Italy
Motorcycles
album: 52/B. - Museo NICOLIS - moto, Italy
Cars
Museum NICOLIS:
1st Floor: cars collection
2nd Floor patro: 500 cameras, 100 musical instruments, 100 typewriters
3rd Floor: 100 motorbikes, 120 antique bicycles
album: 52/C. - Museo NICOLIS - cars, Italy
Italy showed us how it can taste under the hot southern sun. We can't avoid bikes, right at the reception an enthusiastic cyclist welcomes us and shows off his machines. Nothing will stop us from jumping into the pool and moving to the beautiful terrace where we can stay with red wine until late at night.
album: Deserved rest
Day 4 - Real experiences -from history to Colango and stopping at the Chapel
Tino Sana - Museo del Falegname, Almenno San Bartolomeo – Italy
THE CARPENTER'S MUSEUM: A PLACE OF THE HEART IN WHICH TO RETRACE THE HISTORY OF WOOD, INAUGURATED IN ITS FIRST SPACES IN 1987 THE MUSEUM IS TODAY CONSIDERED A CULTURAL HERITAGE OF THE HIGHEST PROFILE
In its rooms are on display ancient tools useful for woodworking, from all regions of Italy. Original objects that tell the story of the carpentry from the seventeenth to the twentieth century, with a special attention to the raw material, wood, investigated both from a productive and cultural point of view. The museum also houses a space dedicated to bicycles, the symbol of Italian popular culture to which are linked important sports traditions.
Contact: hhttp://www.museotinosana.it
Address: Via Papa Giovanni XXIII, 55, 24030 Almenno San Bartolomeo (BG), Itálie
album: 280/A. Museo Tino Sana, Italy
Sala Felice Gimondi
Felice Gimondi (29 September 1942 Sedrina – 16 August 2019) was a famous Italian cyclist and a personal friend of Tino Sana. Both lived in the same village all their lives. Gimondi raced from 1959, as an amateur he won the 1964 Tour de l'Avenir and he finished 33rd in the mass start at the Olympics.He signed with the Salvarani team in 1965 and won the Tour de France in his first professional season.He was the overall winner of the 1967, 1969 and 1976 Giro d'Italia and the 1968 Vuelta a España, after Jacques Anquetil, he was the second cyclist in history to win all three Grand Tours, winning the gold medal in 1973, silver in 1971 and bronze in 1970 at the World Road Cycling Championships.
He also won the road races Giro di Lombardia 1966 and 1973, Paris - Roubaix 1966, Roma Maxima 1967, Tour de Romandie 1969, Tour de Catalunya 1972, Coppa Bernocchi 1973 and Milan - San Remo 1974 and the track race Milan Six Days 1972 and 1977. He ended his career in 1979.
album: 280/C: Tino Sana - Biciclette Dei Mestieri Ambulanti
And since we are "old timers", we had a great time here.
album: Tino Sana muzeum
"Biciclette Dei Mestieri Ambulanti" – Working bikes
A completely typical affair for velo museums in Italy. Working bikes. Right here in the Tino Sana museum, they are focused on crafts, so bicycles cannot be missing.
album: 280/B. Museo Tino Sana - Sala Gimondi
"Biciclette Dei Mestieri Ambulanti" – Catalogs
All pictures are from museum book - catalogs of bicycles. Thank you!
album: 280/D: Biciclette Dei Mestieri Ambulanti - katalogue
TINOSANA Bicycle
TINOSANA WOOD BIKE IS AN EXALTATION OF CRAFTSMANSHIP AND DEEP KNOWLEDGE OF RAW MATERIALS FUSED WITH INNOVATION AND ENGINEERING.
The Wood Bike is the first completely made of wood, with the exception of the one-piece handling and joining mechanisms, numbered with fire punching and accompanied by a certificate of authenticity emblem of value and refinement made for connoisseurs and lovers of beauty that can be admired throughout the Museum of Carpenter Tino Sana, next to our headquarters in Almenno San Bartolomeo, that contains the history of wood and the craft profession.
Tinosana, in particular, made 220 wooden bicycles tested and patented by Bianchi. One of these is also on display at the Museum of Science and Technology in Milan, as well as at the company's headquarters.
album: 280/E: Tino Sana bike production
Colnago museum – Cambiago, Italy
Colnago is a traditional Italian bike and frame brand, the most Italian of Italians and the most classic of classics. Colnago has a sound, a rich history, a prestigious present, something that can be called the spirit of the brand and a gloriola exceeding the number of medals, records, rainbow jerseys of world champions, national titles of countries of almost all of Europe, scalps of the most prestigious races.
Right in the factory there is a large hall with the most interesting things that have been produced. Unfortunately, the bikes were moved out in 2022 and the plan is to build a separate museum. Unfortunately, concrete steps have not yet been taken. We had a great time with the bikes during our visit, so I share them in the gallery as a memory and thank you for using Bikeradar.com and Cyklonovinky.cz
Contact: http://www.colnago.com/
Address: Viale Brianza 7/9, 20040 Cambiago MI, Italy
album: 282/A. Colnago Italy
Colnago factory in Cambiago
Thanks to my profession, we had the opportunity to visit the production and talk directly with the people involved in development and production. A very powerful experience!
album: 282/B. Colnago Italy
History of the shamrock
1932 - Ernesto Colnago was born as the first son in a farmer's family
1945 - joins the prestigious Gloria bicycle factory, first contact with technology
1951 - A broken leg ended his racing career
1952 - leaves the Gloria company and starts assembling bikes on his own (on 25 m2)
1954 - the official opening of the store and the launch of the Colnago brand
1956 - Ernesto got married, moreover, he became a recognized mechanic of the G.S. Nivea professional team
1957 - sponsors Chlorodont team, Gaston Nencini wins Giro d'Italia, invents fork cold forming technology
1960 - Luigi Arienti wins the road race at the Rome Olympics at Colnago
1964 - Ernesto became the mechanic of the national team for many years
1971 - thanks to the use of new materials, it was possible to build a bike weighing only 5.25 kg for Eddy Merckx and his timepiece record
1975 - built a Mexico frame with a flattened frame tube
1986 - began collaboration with Enzo Ferrari, which brought new materials and technologies
1987 - straight road fork
1989 - the all-carbon C35 model was the first offspring of the Colnago-Ferrari collaboration
1991 - Carbitubo - original frame design with two thinner down tubes instead of a single strong one
1994 - Tony Rominger set a world record in the time trial at Colnago (55 km and 291 m); Ernesto completed and patented the technology of one-piece carbon couplings
1997 - a new Colnago factory was built in Cambiago
2000 - premiere of a limited series of CF1 carbon machines resulting from cooperation with Ferrari
2003 - the road gem C50 is ready for the company's 50th anniversary
Madonna del Ghisallo – Patrona dei Ciclisti, Magreglio - Italy
Madonna del Ghisallo Sanctuary and Cycling Museum are located in Magreglio in the province of Como, on a hill which is very popular among bikers and has been home of many famous competitions; here there's a beautiful landscape on Lake Como.
Ghisallo's hill links Valassina with the high part of the Lake. On the top at 754 meters above sea level, there's a small church: Madonna del Ghisallo Sanctuary. A legend says that its name comes from a certain Ghisallo, which was attacked by robbers and wanted a Church to be built there. It keeps important relics about the world of cycling.
Contact: https://www.museodelghisallo.it
Address: Via Gino Bartali, 4 - 22030 Magreglio (CO), Italy
album: 285 - Madonna del Ghisallo
We had a lunch on the way to Ghisallo at a local bar. We made friends right away.
album: A Ghisallo lunch
Museo del Cyclismo Ghisallo
The Museum, founded in 2006 by the biker Fiorenzo Magni, is dedicated to the bike world and for this reason it promotes this sport with all its values and memories. It has 3 floors and it includes a collection about cycling like the one of "Pink Jersey". All bicycles on the display are in original condition – it is absolutelly "paradise" for bicycle collectors!
album: 284/A. Museo del Cyclismo Ghisallo
The best of bicycles are on display inside a special glass boxes on an exclusive place: Authentic bicycles:  Legnano – Fausto Coppi, Willier – Florenzo Magni, Legnano – Gino Bartali.
album: 284/B. Museo del Cyclismo Ghisallo
Everyone found their own thing in the museum.....
album: Time in the museum
The Giro d'Italia is the second oldest and most difficult cycling stage race, founded in 1909. Its length is usually 2,500–4,000 km in 10–22 stages. It is traditionally held in May as the first of the three Giro - Tour - Vuelta
The leader of the overall standings wears a pink jersey (maglia rosa). Similar to its counterpart, the yellow jersey from the Tour de France, there is also an origin in the color of the organizer's paper - the newspaper Gazzetta dello Sport
album: 284/C. Museo del Cyclismo Ghisallo
Army bicycles in Museo del Cyclismo Ghisallo
album: 284/D. Museo del Cyclismo Ghisallo
The late afternoon prepared us for an unexpected stop. Yes, we like these shops. They are treasures...
album: Treasures
Museo Cyclostorico Palazzi, Gallarate - Itálie
A small private museum with a complete cross-section of the development of the bicycle. Racing cycling and military bikes have their important place. Open by appointment only.
By on our way we made an appointment, visited the place, the owner was at home, he lives directly above the exhibition, but our delay was not understood and the museum remained closed to us. They were more accommodating in a small bar nearby.
Contact: https://www.museociclostoricopalazzi.it
Address: via San Giovanni Bosco, 4 – Gallarate (VA), Itálie
album: 286/A. Museo Cyclostorico Palazzi - Italy
For illustration, a few photos - found on the Internet (thanks for the opportunity to share)
album: 286/B. Museo Cyclostorico Palazzi - Italy
Day 5 - The Privat collections - we really love it!
Museo Scooter & Lambretta, Milano – Italy
Part of a big  Scooter & Lambretta museum is vintage bicycle collection. A little over forty vintage bicycles make up a beautiful collection. Everything before 1940 and everything in original condition.
Address: Via Kennedy, 38 - 20090 RODANO (MI), Italy
Contact: https://www.museoscooter.it/#home
album: 256/A. Museo Scooter & Lambretta, Milano
The Scooter and Lambretta Museum was founded by Vittorio Tessera (founder of Casa Lambretta), something inexplicable happens in him at the age of 15 ... the Lambretta enters his heart.
The collection continues to grow, the first Lambretta 125 B in 1978 and then the first 125A with sidecar. The activity of the newborn Club Lambretta, the only one of its kind in Italy, begins to bear fruit, and at the same time, like a dream come true, at the age of 19 it opens its scooter and Lambretta restoration workshop, the first in Italy to specialize in this sector.
album: 256/B. Museo Scooter & Lambretta, Milano
A certain addition to our visit was the opportunity to see the restoration workshops and private collection of Mr. Tessera.
album: Privat part of Mr.Tessera collection
Collezione velocipedi e biciclette antiche A. & C. Azzini, Soresina, Italy
We had the opportunity to personally walk through the entire museum accompanied by both owners in 2022. It was a huge pleasure to see not only a cross-section of the bike's development, but entire blocks dedicated to local brands. This is what a museum should look like! This is the reason why collectors from all over the world will come and discover new and unknown technical treasures here. Their museum and exhibits are fantastic. The beautiful philosophy and attitude towards collecting is convincing. Alfredo and Carlo Azzini say: "We paid great attention to the conservation and restoration carried out in our restoration center. We study every detail, every difference. During many years of passionate research, we were guided by only one consciousness: although we are now the momentary owners of these treasures, our mission is only and exclusively one idea: to preserve and protect them and finally leave them to future generations with full respect for bicycle history."
album: 242/A - Collezione A. & C. Azzini
Address: Palazzo Vertua Robbiani, via Robianni, 2 - 26015 Soresina (CR), Italy
Contact: www.velobiciantiche.it
Facebook: https://www.facebook.com/velobiciantiche/
album: Reception of Alfredo and Carlo Azzini
A private museum present 10 main sector with circa 200 bicycle, they cover up the period between 1818 and 1955. There're several typology of partition in order to have a clear image of the evolution of the bicycle. The Museum will be open only in the time table available in Facebook at the page Velocipedi e biciclette antiche collezione privata A & C Azzini and if you won't find a date there you can have a reservation just for you in the weekend simply by keeping in touch in facebbok's page.
album: 242/C - Collezione A. & C. Azzini
For today, we exchanged the hotel for accommodation on the farm. We definitely didn't regret it...
album: Agroturismo Bressanoro
Day 6 - Milan again. Next collectors, next museums....
A privat collection, Milano – Italy
Our journeys are always interspersed with meetings with many collectors, friends and bike lovers. As in many cases, we must respect the ban on photography, or rather the ban on publishing. But here it was worth it!

album: Milan - a privat collection
When we are in Milan, when we look for traces of one of the oldest manufacturers of velocipedes in Milan GRECO & FIGLI, when we find something in Milan, it is worth it again! Probably the best-preserved machine of this company. Now it will decorate the "Biczycle collection" in Bohemia.
album: GRECO & FIGLI - Milan
Vigorelli velodrom - cult place!
Address: Via Arona, 19, 20149 Milano MI, Itálie
The 397m-long outdoor velodrome was built in 1935 and is now a protected building as the area is filled with skyscrapers, offices and new apartments. It was bombed during World War II but hosted Fausto Coppi's Hour Record attempt in 1942. A total of 150 records have been set on the boards, with Jacques Anquetil (1956), Ercole Baldini (1956) and Roger Riviere (1957 and 1958) among the riders to break the Hour Record on the track. In 1986, Francesco Moser set a sea-level Hour Record on a disc-wheel aerobike, having set a new outright record in Mexico two years previously.
Legendary Italian track sprinter Antonio Maspes trained on the Vigorelli and was apparently the only rider able to hold a track stand on the steep 45° banking. 
The Vigorelli has hosted 23 Giro d'Italia stage finishes and the finish of Il Lombardia until 1985, when Sean Kelly won(opens in new tab). In Italy the Vigorelli is also famous for hosting a Beatles concert in 1965 and Led Zeppelin also played there.
album: Vigorelli velodrom
album: Vigorelli velodrom 2022
Museo della Scienza e della Tecnologia "Leonardo da Vinci", Milan - Italy
An unobtrusive entrance to the kingdom of technology. However, we were not pleased during our last visit in 2022. The complete part of the transport section with bicycles and cars was canceled and moved to the depository.
album: 99/A -Museo "Leonardo da Vinci", Milan
The museum is the largest science and technology museum in Italy, and is dedicated to Italian painter and scientist Leonardo Da Vinci. It was opened on February 1953.This museum, in the ancient monastery of San Vittore al Corpo of Milan, is divided in seven main departments. Transport part had a lot of very interesting bicycles including "Triciclo a leve manuali - Cavallo Meccanico".
Address: Via San Vittore, 21, 20123 Milano MI, Itálie
Contact: http://www.museoscienza.org/
album: 99/B - Museo "Leonardo da Vinci", Milan
Some photos from the book "STRAordinariCICLI - Dall'invenzione di Drais alle biciclette dei campioni" published on the occasion of the exhibition held at the museum in 2008.

album: 99/C -Museo "Leonardo da Vinci", Milan

Small tasting for fans antique motorcycles and cars:

album: 99/D -Museo "Leonardo da Vinci", Milan

The best I can offer. A series of professional large-scale photographs taken around 1960 for the needs of the museum. We bought the collection a few years ago at an auction in England. A great testimony of the "treasures" hidden in the Milanese museum.

album: 99/E -Museo "Leonardo da Vinci", Milan

Sometimes the museum organizes guided tours of the depository. It is always necessary to order in advance and purchase tickets on their website.

album: 99/F -Museo "Leonardo da Vinci", Milan
Museo Nazionale dell'Automobile, Turin - Italy
The Museo Nazionale dell'Automobile (The National Automobile Museum), founded by Carlo Biscaretti di Ruffia  is an automobile museum in Turin, northern Italy. The museum has a collection of almost 200 cars among eighty automobile brands representing eight countries (Italy, France, Great Britain, Germany, Netherlands, Spain, United States of America, Poland). The museum is situated in a building dating from 1960, and it has three floors. After restructuring in 2011 the museum is open again, and its exhibition area has been expanded from 11,000 square metres (120,000 sq ft) to 19,000 square metres (200,000 sq ft).
Address: Corso Unità d'Italia, 40, 10126 Torino TO, Itálie
Contakt: https://www.museoauto.com
album: 290/A - Museo Nazionale dell'Automobile
The development of the tire is precisely the reason why we included the Museo Nazionale dell'Automobile among the cycling museums. Blending with the development of the bicycle is very close.
The second and most important reason was the ongoing MOTUS exhibition.
album: 290/B - Museo Nazionale dell'Automobile
Expo Motus: The Prehistory of the Automobile - Museo Galileo – Italy
The dream of autonomous movement, independent of human and animal energy, is as old as the history of mankind. Its first expressions are lost in antiquity and are reflected in art, poetry and literature.
In thirteen stages, they take the visitor on an ideal journey that begins in Mesopotamia in the third millennium BC and ends with Karl Benz's automobile in 1886. In between, there are extraordinary projects, which, from time to time, spring from intuitions destined to become a turning point in the field of automobility.
Exhibition Dates 08.04.2022 – 25.09.2022
Contact: https://mostre.museogalileo.it/motus/en
Address: Museo Nazionale dell'Automobile di Torino, Corso Unità d'Italia, 40, 10126 Torino (TO), Italy
album: 281/A. Exposition "MOTUS" 2022
The exhibits on display show how the theme of 'automobility' has taken shape, starting with the invention of the wheel. With the swift development of technology from the third century BC onwards, this dream, which was already present in the culture of ancient Greece, has evolved into clear visions and eventually has become real.
album: 281/B. Exposition "MOTUS" 2022
The Velocimano
Materials: wood (poplar, acacia, elm, ash), gesso di Bologna (plaster), canvas, forged iron, cast bronze, cured leather, vegetable hair, natural glues, boiled linseed oil, colored pigments, beeswax
A new means of personal transport called "velocimano" appeared in Italy in 1819 in Italy. Its name is due to the alternating movement of the arms, instead of the feet, that propelled the vehicle. It was a tricycle that, in the standard version, looked like a winged horse. Its inventor, Gaetano Brianza, organized a presentation in the Santa Radegonda theater in Milan in May 1819 and gave out to the public a poem entitled El gran cavall meccanegh (The great mechanical horse). The specimen on display, in the shape of a winged dragon, is one of the original models built by Brianza. The wings are actually two manual levers that generate the movement; when they are pushed in the opposite direction, the tricycle travels backwards. The steering is operated by feet. Stopping the wings is sufficient to brake the vehicle.
album: 281/C. The velocimano
The contrast to the ultra-modern museum was a dinner in an ordinary stall in the parking lot and an overnight stay in a centuries-old manor.
album: Dinner in Turin
Day 7 - The END
On the way home, just buy a few delicacies at the petrol station and plan the next trip. There is definitely a reason! We have almost thirty contacts and addresses for other collectors and museums... That will be another hit!
Who plays does not get angry!
album: The way home
Info mix