Reinor "Super Grand Luxe" randonneur bike- France c.1940 - Bicycles / Archive - Sold / Archive - Sold / Archive - STERBA-BIKE.cz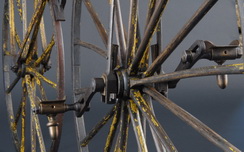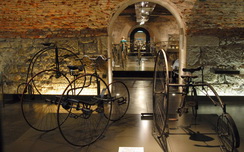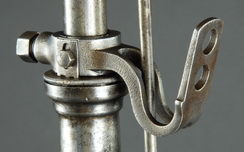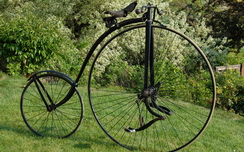 Reinor "Super Grand Luxe" randonneur bike- France c.1940
click on picture to enlarge
Beautiful bike with all the right details (just one example, the alloy double clip to hold the brake cables together) that make a 100% original bike like this so interesting.
Description
Reinor "Super Grand Luxe" randonneur bike. Beautiful machine of the 1940s, fully original, top quality parts, wonderful paint and lining with the original maker and interesting bike shop decals. Very pretty colour combination : light "milk chocolate"  brown with red and gold double lining, Gold Reinor decal. 
Quality frame with nice fork top, nice lugs, brazed-on cable guides for rear derailleur and rear brake routing. The alloy parts are the best and lightest parts available at the time for an expensive French bike. Large alloy mudguards, beautifully lined down the center, original 650B Englebert demi-ballon tyres. Very rare early Mavic rims. Rare Simplex derailleurs, the front derailleur lever is on the down tube, rear derailleur lever on top tube, as was the fashion in the late 40s for quality bikes. Top quality Jeay brakes and levers. Beautiful lightweight alloy pedals, double large ratio randonneur Cyclo chainrings. Reinor bell, alloy handlbar and stem. Alloy hubs and wing nuts. Idéale 44 saddle. 1Interesting design alloy front light, rear light, reflector.
Buy
| | |
| --- | --- |
| Price | - |
| Availability | |
| Part number | 113 |
| Year: | circa 1940 |