National Cycle Museum - Lincoln 1984 - 1996/97, England - England - Velo museums - Velo museums - STERBA-BIKE.cz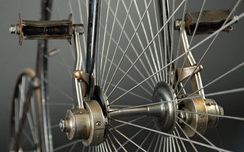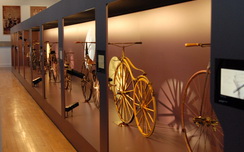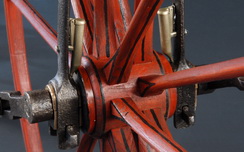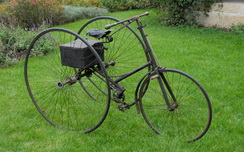 National Cycle Museum - Lincoln 1984 - 1996/97, England
Ray Fixter, a prominent member of the Boston Veteran Bicycle Club was a big enthusiastic and lover of antique bicycle. He set up the bicycle museum at Belton House. In 1979 Fixter obtained Charitable Trust status no 511257 and remand the project The National Cycle Museum. It was opened on 26th April 1980 under name Belton Cycle Museum, by Michael Montague, chairman of the English Tourist Board with exhibits from Ray's own collection, the Raleigh collection, Science Museum and various private individuals
Mr Fixter passed away in 1983 and Mr Jim Maynard, Ted Skeet and Tony Pickering, members of the BMVCC made the official company registration No  1821702. The National Cycle Museum was now a company, limited by guarantee and not having a share capital. Short time latter the museum was moved from Belton to Lincoln and there was open for public. But in 1988 the City of Lincoln Policy and Resources sub-committe emerget more lucrative project for space where the museum was. The museum at Lincoln was closed down in 1996/97.
Now, the collection is show on public display at the Automobile Palace, Llandrindon Wells which was occupied for many years by Norton as a Cycle and Motorcar dealer.
Contact - National Cycyle Museum Lincoln: museum was clossed
Contact - Llandrindon Wells: here or http://www.cyclemuseum.org.uk/
album: 134/A – National Cycle Museum
Anthony H.C.Pickering "The National Cycle Museum"
(the article from The Boneshaker 174, Summer 2007)
Here is full text where Tony Pickering in detail described all aspects how the National Cycle Collection was moving.
album: 134/B – National Cycle Museum
During time in Lincoln the museum had five curators: Moira Page, Andrew Fielding, Andrew West, Margaret Williams-Ball and Serena Beeley - author in 1992 of the book entitled A History of Bicycles containing many photographs of the museums machines and artefacts. All our pictures showing bicycles from the National Cycle Museum in Lincoln are copies from this book.
Serena Beeley - the book A History of Bicycles
Here is small tasting and we are recommending this book. It is one really interesting example of books detailing bicycle history.
album: 134/C – National Cycle Museum
Final Catalogue/ Booklet from 1992