Musée des Arts Forains - Paris, France - France - Velo museums - Velo museums - STERBA-BIKE.cz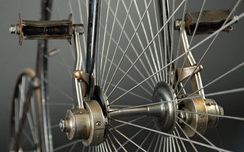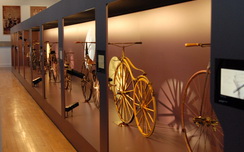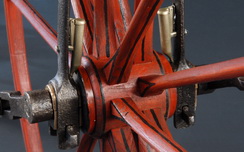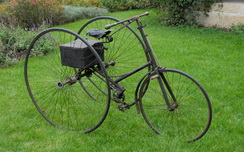 Musée des Arts Forains - Paris, France
Just two velocipede carousels remain in the world today. One is in France while the other is part of a traveling collection of vintage amusement park rides. The velocipede carousel in France resides at the Museum of Arts Forains (Museum of Fairground Arts) in Paris' Bercy neighborhood. The museum, opened in 1996, includes colorful jumble of carousels, carnival rides and games from the 1850 to 1930 time period. The beautifully restored pieces were collected by a man named Jean-Paul Favand; His collection is one of the largest private collections in Europe. Luckily for the rest of us, Favand turned his collection into a museum so everyone could enjoy it. Even better, the rides in his collection aren't simply on display, they're still operative. So yes, if you head to the museum, you can pedal his 1885 velocipede carousel [sources: Thomas, Robertson] The museum reported to have been made in 1897 and it was discovered in Belgium around 1940. Two interesting points about his velocipede carousel: while the French carousels all run counterclockwise, this one runs clockwise because it was operated in Great Britain, where that direction was the norm.This velocipede carousel was also featured in the 2011 film "Midnight in Paris," directed by Woody Allen [source: Rohan]. The first big-rounds appeared around 1870 and served as a school for riding bicycles and promoting riding in general.
The museum is open to the public once a year and getting inside for an individual tour is very difficult, almost impossible. After many years the door opened to us so we can share.
Contact: http://arts-forains.com
album: 247/A - Musée des Arts forains
Fête Paradiso
The world's other remaining velocipede carousel is part of Fête Paradiso, a similar group ofvintage rides, carousels and various other carnival components. Frenchmen Francis Staub and Régis Masclet, rabid collectors of old carnival rides and art, purchased the pieces and came up with the idea of traveling around the world with them, reminiscent of the carnivals of yesteryear. Fête Paradiso was set up for several weeks at a time in various locales, beginning in 2013 [source: Rohan].
album: 247/B Fête Paradiso
Museum of Arts Forains
The museum exhibits objects characteristic of fairs and pilgrimages. It is divided into a temporary exhibition and a permanent exhibition, which contains many fairground attractions, fair stands, various sets of historical works and 1522 separate items. The permanent exhibition is located in three halls with a total area of ​​5000 meters of terter, which are thematically divided. The whole building can be rented for private or corporate events and presentations. The atmosphere is very mystical and strange.
album: 247/C - Musée des Arts forains
Picture 1 – Bicycle Roundabout 1875
Picture 2 – Bicycle Carousel – France
Picture 3 – Luna Part Paris 1910
Picture 4 – Velocipede carousel – patent US
Picture 5 – Hans-Erhard Lessing: Authour de Michaux – Mythes et Realitée (research 1995)
Picture 6 – Sturdy & Yong – R.I.Velocipede No. 89,700 Patented 1869 May 4
Picture 7 – L´UNIVERS ILLUSTRÉ 1870 – page 588
album: 247/D - Carousel History
Concept 1900 -  Bike'n Roll
That's what Concept 1900 Entertainment offers with Bike'n Roll, a special carousel bike that can fit about fourty people at a time. One lucky passenger can pedal the bike while everyone else sits back and relaxes.
Kontakt: http://www.concept1900.com/en/carrousels
album: 247/E Concept 1900
Concept 1900 - Catalogue
album: 247/F Concept 1900 catalogue
If you are lucky enough and above all enough money maybe you can get a really rare collector's piece.
album: 247/G - Collectors Items
Velocipede tramway from 1898 - one of the rarest machines from the early period of Velocipede history I have met.
album: 247/H Velocipede Tramway
For those who do not have enough space for a real carousel at home .....
album: 247/I Carousel velocipede Toy
Velocipéde for "Caroussel", Manufacturer unknown, France – around 1870
album: 247/K France – around 1870