"Luxury" Hirondelle retro-directe – France 1920 circa - Bicycles / Archive - Sold / Archive - Sold / Archive - STERBA-BIKE.cz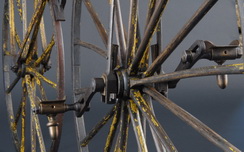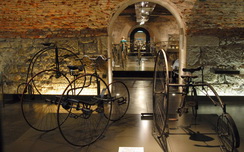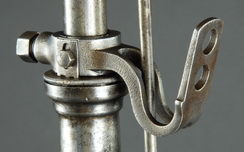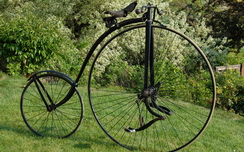 "Luxury" Hirondelle retro-directe – France 1920 circa
click on picture to enlarge
"Luxury" model Hirondelle retro-directe two speed in exceptionally good original condition for it's age. The paint and nickel on the earlier and more expensive Hirondelles was of exceptional quality (5 coats of black paint according to the catalogs, that give a very deep stove enamel finish that restored bikes never achieve) and it just needs a good polish on the paint and nickel (see front hub, partially polished, to see condition of most of the nickel underneath )
Nickel plated rims on this luxury model. Hirondelle hubs. Manufrance badge on dynamo and back mudguard. Hirondelle patented hubs and brakes and brake levers. Even the back carrier is original and high quality.
53.5 cm c to c.(But the saddle looks fine quite a bit higher). Lionrone saddle with lovely patina. Original gold lining and original "Hirondelle St Etienne" transfer on down tube.
The horn grips and tyres are not original and the rest of the lighting is missing.
This bike appears to have been little used and very well looked after and although it obviously needs a good polish and adjusting of brakes etc, it rides beautifully, very comfortable bicycle!"
Description
Manufacture D´Armes et Cycles – France
---
The company which name is exactly "Manufacture D´Armes et Cycles de Saint-Etienne" was established at Villeboeuf, Saint-Etienne, on 10 November 1885 by directors Minard and Blachom for the manufacture of sporting guns and bicycles under the "Hirondelle" or "Swallow" trade mark.
The model with retro-direct gear was introduced in 1903. Two gears were obtained by means of two opposing free-wheels with a change of gear being obtained by pedalling in the opposite direction. Continual simplification and quality control saw sales increase to 12.000 a year by 1911. The compyny failed in 1940 as a result of the Second World War.
Buy
| | |
| --- | --- |
| Price | - |
| Availability | |
| Part number | 57 |
| Year: | 1920 circa |