Jan Kohout and his family - Specialized articles - Specialized articles - Specialized articles - STERBA-BIKE.cz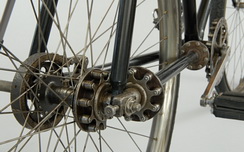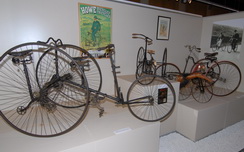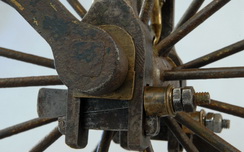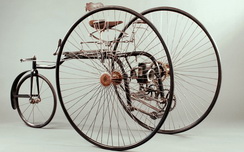 Jan Kohout and his family
Jan Kohout (May 10, 1819 – December 30, 1884) played a key role in the history of producing high-wheel bicycles. He was borne into the family of a landless farmer. The town was Křečkov in Central Bohemia between Nymburk and Poděbrady.   He learned carpentry and then set out to see the world as was the fashion at the time. He passed through Liberec and Prague and finally ended up in Löbersdorf in lower Austria where he lived for six years. Here he exhibited unusual talent and diligence.  He learned how to make mill equipment and simultaneously became a machinist.  After gaining experience he became independent. The first work he accepted as a master worker consisted in the reconstruction of a steam-driven mill in Čejče, Moravia.  This was  followed by the construction of a steam-driven mill in Lovosice and then in Smíchov which was still a separate municipality next to Prague. He settled down here in Smíchov in 1849 and built his workshop in building No. 352.
Over the years , a large factory for mill and farm machinery was constructed on the property in Smíchov. Kohout built a two-floor town residence in one corner of his premises facing Svornosti street.  This building is still standing at the present time. It was apparently reconstructed and modernized in 1899.
Important people of cultural and social life met in the home of Jan Kohout – František Palacký, František Ladislav Rieger, Vítezslav Hálek and a number of others. Kohout's oldest daughter Marie was the closest friend of Zdeňka Havlíčková the daughter of Karel Havlíček Borovský.
album: Jan Kohout and his family
Rudolf and František Kohout
The year 1879 is important to our story. During that year an Anglican clergyman, James Piricho, with his family and his nephew, William Crowl, stayed with Jan Kohout. Crowl brought his Excelsior high-wheel bicycle with him to Prague.
Jan Kohout was the father of eight children. The oldest, Rudolf (July 1, 1853 - ?) was a travelling salesman at that time and had nothing to do with the production of high-wheel bicycles or riding them. Their second child, Marie (August 8, 1855 – June 29, 1877) was no longer alive; she was followed by František (February 11, 1860 – November 8, 1918), Josef (June 10, 1863 – April 1, 1946), Božena (December 9, 1864 - ?), Johanna (February 18, 1870 - ?), Petr (June 28, 1867 – 1919) and finally Václav (January 20, 1872 – May 6, 1900). In 1879, nineteen-year-old František and sixteen-year-old Josef gleaned a lot of enjoyment from their guests. This was especially so from William Crowl. They were enthusiastic about the Excelsior that William rode.  He taught Františekééé   and Joseph to ride as well. It is understandable that it did not take long for the two boys to convince their father to build them a similar machine. Both of the Kohout boys soon became excellent riders and racers, especially Josef.
In 1880, the Kohout factory began to make all-metal bicycles. František and Josef were the best advertisement for their father's bicycles. It is interesting that there is practically no mention anywhere of the oldest son Rudolf. He was not connected in any way with production in Smíchov and was apparently not even in contact with his family. For example, it is explicitly stated in the extensive document on the celebration of the 20th anniversary of the establishment of the Czech Velocipedist Club ČKV 1880 that: "All four sons of Jan Kohout are completely devoted to our sport..." – and the fifth, the oldest, Rudolf? We do not know when he died, but we do know that he got married (wife Pavla, 1858 – October 18, 1914) and also that, in the years when high-wheel bicycles were made, two sons were born to him – Rudolf (1881) and Gustav (1882). To put it briefly, it was as if Rudolf Sr. did not exist.
When the father Kohout died, the promising racing career of František (1860) ended. He was the one who was to direct the factory in the future. He had the best qualifications for this based on his study of mechanical engineering at the technical institute (although it is not clear whether he completed his studies or had to terminate them prematurely). High-wheel bicycles were only an auxiliary program in the factory although income from their sales was important.  The price of a machine ranged from 130 to 145 gold pieces depending on the diameter of the front wheel. This corresponded to approximately the half-yearly wage of a manual worker. The sale value of a bicycle was only a fraction of the price of a piece of production equipment for a mill.  Still it is estimated that 700 to 900 machines were built in Smíchov over 13 years.  This corresponds to between 96 and 123 thousand gold pieces which is a noteworthy amount.  This however didn't change the fact that mill equipment constituted the main products of the factory which included water turbines.  This was mentioned in the Monograph of the Town of Smíchov of 1882.
 Manufacturer and Importer
Production of bicycles was slow to get off the ground. This was partly because this was something completely new and also because there were as yet no customers. No one had ever seen a high-wheel bicycle in all of Austria-Hungary and certainly none had been built. The development and modernization of velocipedes was apparent from the descriptions of the individual machines.  This however was more or less single-item (one off) production for the whole time when each machine was unique in some way. The components were not interchangeable and production was certainly not standardized. Production was apparently most intense in the middle of the 1880's. The company became the largest manufacturer of bicycles with the greatest range of products.
In the middle of the 1880's other craftsmen tried making high wheel bicycles (sometimes successfully). This was the time when Kohout high-wheel bicycles were in demand. Even the word "Kohout" became a synonym for a high-wheel bicycle. At that time imported bicycles were expensive and safety bicycles were not yet common. This is reflected, amongst other things, in a number of whole-page Kohout advertisements (the advertisement cost 10 gold pieces), published monthly from the first editions of the Cyklista, put out by the Czech central unit of velocipedists from October 15, 1884. In them, it is stated, amongst other things, that Kohout "provides bicycle manufacturers with all components, either machined or rough at reduced prices". We do not know how many of these "manufacturers" there were, but they certainly included Jaroslav Blovský in Malá Strana in Prague who, in an advertisement in the 2nd edition of Cyklista (November 15, 1884), promised a "light travelling bicycle that has proven itself through its durability on all routes and outings undertaken in two seasons by all the members of the Prague velocipedist club. Our racing bicycles were the winners in two races in this year's races in Prague." Supplying the entire Prague club (founded on April 23, 1883) exclusively with its bicycles meant producing several dozens of them. Vojtěch Černý, originally a Kohout employee, was another producer who left the company and also began to make high-wheel bicycles. One of Černý's apprentices was Josef Walter, later a well-known manufacturer of bicycles (from 1898) and motor vehicles.
The 7th edition of Cyklista of April 15, 1885 contains both a whole-page advertisement for the Brömer-Elmerhausen & Co. department store in Vienna, offering the excellent Premier-Bicycle and Tricycle from the Hillman Herbert & Cooper factory in Coventry, with a picture of a Kangaroo and the caption: "Represented in Prague by: Karel Schulz at Smíchov No. 294". This wouldn't be in any way strange if there had not been another whole-page advertisement by the Kohouts two pages further on where, in addition to offering (with a spelling error) "tried and true Champion Bycikles", it is written: "... and also supplies all kinds of English velocipedes and sets, partly or completely nickel-plated at various prices from 85 gold pieces up."  Bicycles systems of the Howe and Hillman, Herbert & Cooper (DHF)system at especially low prices." Were they competing with their friend Schulz? A month later, in June 1885 (Cyklista No. 9), the Austrian wholesaler again advertised HH&C machines with reference to their Prague representative Karel Schulz at Smíchov No. 294. One page later, Kohout announced that it is the "General representative of the world-renowned D. Rudge and Co." as well as the Coventry Tricycle company and also Hillman, Herbert & Cooper. Is it possible that Kohout and Schulz competed for customers? Or that they bought HH&C products from Schulz to extend the sales network? It's possible. What is certain is that Kohout was interested in offering a broad range of products. They took bicycles from the general representative Jindřich Ley of the Howe company of Prague Ferdinand Boulevard 1010-1.  Ley always had a whole-page advertisement in Cyklista from the first edition and offered Howe machines in his advertisements.
Josef Kohout
Josef Kohout graduated from the Piarist "realschule" (type of a lower highschool at that time) and then went to the Czechoslovak Business Academy.  After graduation he entered the family company.  When his father died (December 1884), he apparently managed the factory together with his brother František. This information is according to  an advertisement in the Cyklista magazine No. 4 of January 15, 1885. However, the other activities of Josef Kohout prevented František from participating in the management of the company. He became an excellent racer with good standing amongst those of the best high-wheel bicycle riders in Europe.  In 1892, he went to Russia to the university in Charkov, where he studied under Prof. Richard Šercl and then in Odessa under Prof. Čeňek Šercl, where he studied linguistics. He travelled through the Crimea and the Caucasus, where he studied the languages of the local people.  He didn't forget about bicycle riding. In 1893, he created a new track record on a safety bicycle over 24 hours with a performance of 539.769 km. He established a warehouse for farming equipment and velocipedes in Odessa. The Russian Ministry of Warfare entrusted Josef Kohout with providing bicycles for the army. He published the "Russian Velocipedist" magazine here. Josef Kohout left Russia in 1903 "as a consequence of a major family catastrophe and nervous disease, and left for Rumania, Switzerland and later Berlin, where he taught foreign languages at business schools, the police presidium and in an officers' casino,". This was written in 1933 in several Czech newspapers on the occasion of Kohout's seventieth birthday.  It can be concluded from various sources that Kohout's Russian wife Anastazia died in 1903. He published a book in Germany entitled "How to learn a foreign language", which was received very favourably.
In 1906 he returned to Russia and accepted the position of director of a mining company in Orenburg about 150 kilometres to the north of Kazakhstan.
He soon left this position when he obtained the mining rights to coal, copper and gold in the steppes around Orenburg. He had enormous riches within reach as a British metallurgical company intended to purchase his mining rights. The deal didn't go through because of the Russian Revolution (1907). Kohout returned to Berlin where he worked as a language teacher. From there, he returned to Bohemia in 1909, to Ústí nad Orlicí where the Andres Company offered him the position of director of their industrial enterprises. He remained there for thirteen years and then went to Denmark and Sweden for a short period of time. In 1922, he returned home permanently to Vinohrady in Prague where he moved into Římské St. No. 36. He began to work there as a private language teacher at the age of 59. He later moved to Korunní St. No. 26, also in Vinohrady, into the house made famous by the legendary Kravín pub. In 1936, at the age of seventy three, he married Alžbětau Vichtová (1882 - ?), with whom he had already lived for a long time.
On June 16, 1945, he wrote to his friend Ruda Siegr, the editor of the Cyklista magazine: "After you left, the porter came up to tell us that my wife must go and get a haken-kreuzler (swastika) band and that tomorrow is the last day for this.... I am calling you to start the battle against this aggression, as they have already run the old Centaur to earth."
In the days just after the war, the personal tragedy of the former national hero and his wife did not seem sufficiently important for him to be immediately concerned with it. Mrs. Alžběta had been born to Czech parents during their stay in Berlin. During the Second World War, during the occupation, German officials included her amongst German citizens although she had lived in Berlin for only a short time as a baby. Immediately after the liberation in May 1945, Czech officials designated her as a German – that was what was written in the official documents left by the occupying powers. The Kohouts were tortured by this horrible injustice for a quarter of a year until the authorities apparently corrected it in August of 1945. Josef Kohout died on April 1, 1946. He was 83 years old.
Petr Kohout
The fourth son, Petr (1867), attended the Prague "realschule" and worked as a practical machinist in the family company. He, of course, also rode a high-wheel bicycle and was excellent in all disciplines including circus riding. He moved from Prague to Brno, where he started a family He registered a special workshop for bicycle repairs in Jesuitská St. No. 6, in which he also sold English, American, German and Austrian bicycles. In 1898, he and his partner Suchánek began to make bicycles with the Bruna trademark in Vávra St. No. 40. A year later, he registered the Kohout company at the same address.  At that location he was the first in Bohemia to represent two wheeled motorcycle.  Brands he sold were of the practically unknown Phébus Aster and later the Sarolea and Werner machines. He offered installation of a 1.5 H.P. internal combustion motor on ordinary bicycles.  In 1905, he renamed the company Petr Kohout & spol., First Moravian Two-Wheel Motorcycle Factory and, in 1906, changed the name to Petr Kohout & spol., Motor Vehicle Factory. He probably manufactured motorcycles in 1904 – 1907 and they were also exhibited in the Prague Car Salon in 1905. The intended production of automobiles was not implemented even though he exhibited two small motor vehicles for one or two people at his stand in Prague as well as the motorcycles.
Václav Kohout
Václav Kohout (1872) studied at the business academy and began to work as a clerk in an insurance company. In 1898 he moved to Kroměříže where he opened a store selling bicycles. He came down with tuberculosis and returned to Prague in April of 1900, where he died on May 6.
The Factory
In 1899, the Kohouts (owners are mentioned, but it is not apparent whether these were all the Kohout siblings or whether some of them were paid off or whether František Kohout had become the sole owner) sold the factory together with the property to the Smíchov joint-stock brewery.  There the brewery established a crating plant. They transferred the equipment of their factory to the former workshops of the Porges calico factory, established in 1816 and closed at the end of the 19th century. The J. Kohout company (it still retained the name of its founder) was now located at the site of the present-day Smíchov National Building.  It was there for a very short time.  The former "Porges" had to give way to new streets and the construction of this National Building (constructed in 1906 – 8). Consequently, the J. Kohout company moved to the former foundry of the Suchý brothers in Křížova Street. In 1905, it was moved to Plzeňská č. 18, to a former Grain or Grist milling factory where it remained following reconstruction.
After the death of František Kohout (1918), the management was briefly taken over by his son, František Kohout Jr., who was also active in the administrative board of the Smíchov brewery, the administrative board of the Slavia bank, and elsewhere. He soon sold the company, at the latest during 1919, to his two foremost co-workers, the engineers František Noháč and Jaroslav Pavlousek. The latter died in the same year of 1919, so that the company was managed by Ing. Noháč until 1932, when he also died. The management was then taken over by the sons of both the co-owners, engineers František Noháč and Otakar Pavlousek, who survived the world economic crisis at the beginning of the 1930's. In 1939 the company employed 65 workers. The further fate of the company is not apparent. It can be assumed that it survived the Second World War and was nationalized after the Communist coup in February of 1948. 
Jan Králík, Robert Štěrba, Jaroslav Vožniak
Sources
Allgemeine Sport-Zeitung 1882 – -1884
Archive of the Capital City of Prague
Bartleet, H. W.: Bicycle Book, reprint, 1983
Bicycling News, 1887
Böhm, Josef: Monograph on the Town of Smíchov, Smíchov City Council
1882
Cyklista, magazine, volumes for the years 1884 -1890
Kohout Company catalogue, 1883
Jubilee exhibition of the Land Kingdom of Bohemia in Prague 1891, Prague 1894
Correspondence of Josef Kohout with Ruda Siegr, copy of Kohout's correspondence with the authorities
Košťál, F. J.: 1880 – 1900, In celebration of twenty years of the club, Prague 1900
Listy průmyslové (Industrial Journal), 1879
Marčík, Libor: Naše motocykly (Our Motorcycles), Part I, Austria-Hungary 1899 - 1918
Marčík, undated: A Hundred Years of Work, Prague
Václava Sedláčka, Dějiny Smíchova (History of Smíchov), Part II, manuscript, undated
Velocipedista, magazine, volumes for the years 1888 -1890
Specialized articles