It's not mainstream - books for true experts! - Information mix - Information mix - Information mix - STERBA-BIKE.cz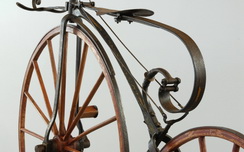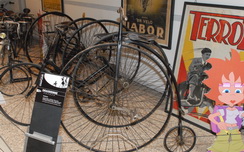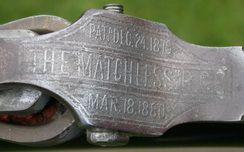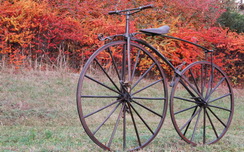 It's not mainstream - books for true experts!
Didier Mahistre and Bernard Gougaud: Aux sources de la bicyclette
"The origins of the bicycle are unknown or even opaque, so that specialists are getting lost in it themselves. This simple and rudimentary vehicle is however the sum of human intelligence. After four years of research, analysis of authentic, original and relevant documents, the authors lead us into a mad investigation using tenuous clues to help us discover the path that leads to the birth of the bicycle.
Didier Mahistre consulted, sorted, studied and cross-checked thousands of articles, engravings, lithographs. He worked more particularly on German, French, English, American, Swiss ... invention patents from 1790 to 1892.
The patent, beyond the simple administrative writing, is the instantaneous and reflected digest of the ingenuity of its inventor who decides to transcribe at a very precise moment his imagination, his vision and his technical innovations thus anticipating societal upheavals. It is there, in the description of the thesis and in the drawings which accompany it, that it layers its subtlety.
Bernard Gougaud, meanwhile, a connoisseur of the bicycle in all its forms, has sorted and validated the technical hypotheses and digested the sum of extraordinary information discovered by Didier Mahistre.
The two authors give us here the sources, the archives and the studies in the context of the different eras, to guide us and to base, in the light of these, our own analysis.
Supporting evidence, the bicycle, our modern bicycle was born in France 150 years ago ... Discover the name of its inventor, which you will now hear about. Also read, the real fakes of the famous Michaux case. "
Orders: https://www.terredesbourbons.com/produit/aux-sources-de-la-bicyclette/
album: Aux sources de la bicyclette
Jürg Zaugg: Vélocipèdes in Genève 1869 – 1892
Jürg Zaugg is wellknown to cycle historians as an outstanding expert in high wheel bicycles. His research methods for fact-finding on unknown high wheel bicycles are very special, up even to comparative metallurgical analysis. He now is presenting a great book on the local bicycle scene in Genève, Switzerland from 1869 to 1892. His focus is concentrated mainly on preserved machines. He looks at local bicycle makers (Bandle Vélocipède and Grenat Vélocipède), bicycle museums, shops, clubs, races and racers. Even a steam driven tricycle is well described. Each chapter is full of details on the found machines with excellent photos, many detail photos and contemporary documents. A fresh new pattern for local bicycle history books.
Switzerland was within the reviewed period a country of well-to-do inhabitants, who could afford high quality. Most of the described machines are first class makes from England or France as: Compagnie Parisienne, Singer & Co., Bayliss Thomas & Co., Hillman Herbert & Cooper and the local Bandle and Grenat. The book is in German.
It is to hope that Jürg Zaugg will be a regular contributor to the future International Cycling History Conferences. His new book is a perfect entrance ticket.
Orders: ordinary.bicycle@bluewin.ch 
Info mix