Hirondelle cyclotouring luxury bicycle – France 1930 circa - Bicycles / Archive - Sold / Archive - Sold / Archive - STERBA-BIKE.cz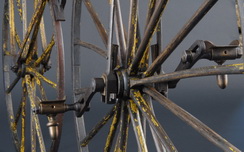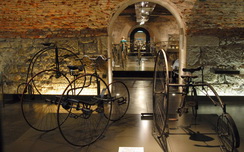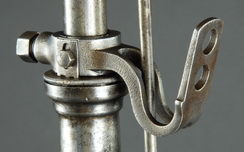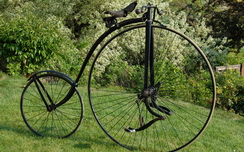 Hirondelle cyclotouring luxury bicycle – France 1930 circa
click on picture to enlarge
Rare and interesting machine in incredible condition. In the 1932 Hirondelle catalog this model was more expensive than the retrodirect, and offered the advantage of three speeds rather than two.
Description
Manufacture D´Armes et Cycles – France
The company which name is exactly "Manufacture D´Armes et Cycles de Saint-Etienne" was established at Villeboeuf, Saint-Etienne, on 10 November 1885 by directors Minard and Blachom for the manufacture of sporting guns and bicycles under the "Hirondelle" or "Swallow" trade mark.
Superb early 30s Hirondelle cyclotouring luxury bicycle, 3 speed Cyclo derailleur. Wonderful original condition, all original parts, original paint deep black with gold lining, original perfect nickel plating. It is very rare to find such a nice bike in such nice original condition, ready to ride with new balloon tyres and a saddle (the original saddle is very nice but the leather is too fragile to ride). This bike has a very early big Cyclo rear derailleur, and is an early example of a cyclotouring bike.
Buy
| | |
| --- | --- |
| Price | - |
| Availability | |
| Part number | 87 |
| Year: | 1930 circa |