Danmark and bicycles - Information mix - Information mix - Information mix - STERBA-BIKE.cz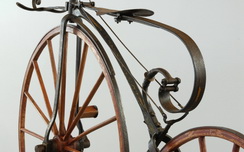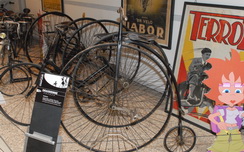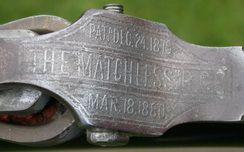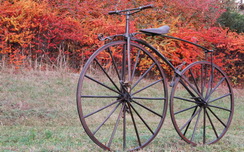 Danmark and bicycles
Denmark is very friendly country for bicyclists. We didn't known how much can be friendly for collectors antik bicycles....
album: Danmark and bicycles
Egeskov - Castle and museums - "A Fairytale adventure"
A visit to Egeskov castle gives you a unique insight into everyday life at the castle hundreds of years ago. Find inspiration and tranquility in the park´s many gardens and explore the the differant museums containing, among other things, vintage cars, motorcycles, bicycles, aircraft and historicial emergency vehicles.
Contact: www.egeskov.dk
album: 43/A - Egeskov - museum and castle, Denmark
Car and motorcycle museum
At the vintage car museum you will find beautifully restored vintage cars, unique motorcycle and mopeds. Some are in original condition.
album: 43/B - Egeskov - museum and castle, Denmark
Veteran motorcycle museum - Stubbekobing
The Veteran Motorcycle Museum was founded 34 years ago as a fellowship between the motorcycle collector Erik Nielsen and the local community in Stubbekobing. There are more than 150 fantastic motorcycles and one antik bicycles. You can see numerous of differant models and types from Europe and the USA. The oldest machine is from 1897. Erik Nielsen collected motorcycles from the year 1960. The collection is still extended, though he died in 2001.
Contact: www.motorcykelogradiomuseum.dk
album: 44 - Motorcycle museum Stubbekobing, Denmark
Danmarks Cykelmuseum, Aalestrup
This is a nice bicycle museum with a complete cross-section of the development of bicycles with a great many machines from local manufacturers.
Contact: www.cykelmuseum.dk
album: 33/A. Denmarks Cykelmuseum, Aalestrup – Denmark
P. Andersen's old house from 1921
The Danish Bicycle museum in Aalestrup is in an original residence for Managing Director of the bicycle factory "Jyden"
album: 33/B. Denmarks Cykelmuseum, Aalestrup – Denmark
The Bicycle and Tyre Factory Jyden
By John Juhler Hansen
The story of The Bicycle and Tyre Factory is the story of Peder Andersen, who was born in 1868 in Lyby near Skive. His father was a farmer, and the home was characterized by the popular and religion life of the region. Peder attended school for seven years, and at the age of 15 he went to live with his brother Esper Andersen, a dairy owner in the village of Jebjerg. Here, he served a four-year apprenticeship as a dairyman. Esper Andersen acquired his interest in bicycles and learnt to ride one.
In 1888, Peder Andersen became manager of the newly established co-operative dairy in Gedsted. He purchased his own bicycle. When on Sunday the two brothers rode out on their "penny-farthings" it created a local sensation. In his room at the dairy, Peder Andersen had a cupboard with bicycle spares. He also began to repair bicycles, so it was a short move to start selling bicycles in his spare time.
album: 33/C. Denmarks Cykelmuseum, Aalestrup – Denmark
As of November 1891, Gedsted Dairy sold its butter directly to a firm in England. Through this firm, Peder Andersen bought a new British bicycle. He named his new firm The Bicycle and Tyre Factory Jyden. April 25 1892, the date on invoice, was since considered the foundation day of the firm. During its first year Jyden sold 10 new bikes, in 1893 about 50 and in 1894 the figure rose to 100 new bikes. It was excellent advertisement for Jyden when in August 1892 Esper Andersen won the Jutland Bicycling Championship. 19 riders were entered, and Esper took 36 hours and 10 minutes to complete the 580 kilometre course, whilst the race´s number two used 39 hours 27 minutes. This was a feat that re-sounded in the contemporary press. Bicycles heralted a new age and its progress. And even though "The machines" were wery expensive to begin with, more and more people bought themselves bicycles. It was the beginning of the age, when the ordinary population had the oportunity of transporting itself.
In Gedsted, the local farmers observed that their dairy manager devoted more and more time to his wholesale bicycles business. In 1896, the dairy committee asked P. Enderson whether he was a dairy manager with bicycles as his hobby, or a wholesale bicycle dealer with dairying as his hobby. In september 1896, Anderson resigned his post as dairy manager. Across the road from the dairy in Gedsted he erected two factory buildings and his private house, from which he ran The Bicycle and Tyre Factory Jyden.
Starting out as a self-employd business man, P. Andersen was not backed by any considerable capital. He was financed by wealthy farmers and by his bank, the Aalborg branch of Landmandsbanken (The Agricultural Bank). Initially, his customers were co-operative stores and individuals in the rural districts. Almost all of his imports were bicycles and sewing machines from the German firm Seidel & Naumann, Dresen. In 1898, P. Anderson acquired the general agency for Naumann in Denmark.
In February 1899, the factory in Gedsted was destroyed by fire. P. Anderson thought of moving his business to Hobro, which was far more central with harbour and railway. But as he failed to buy the site in Hobro, which he had had his eye on, he bought a site on the main street of Aalestrup instead. His new factory was ready for use in October 1899.
Jyden was not content sell Naumann bicycles. In 1897, P. Andersen also put in a stock of other German brands. And in 1900 he wanted to start selling motocars from his new premises in Aalestrup. At the time, motocars in Denmark were still only "toys" for wel-to-do. In 1906, P. Anderson acquired the first motocar for himself. In the same year, he advertised in the trade journal of the bicycle trade with bicycles, sewing machina, motorcycles and cars. After the turn of the Century, Jyden acquired more and more agencies. And Jyden had a dealer network covering all of Denemark. In 1907, Jyden reported its turnover to be 12.000 new bicycles, 250 motorcycles, 3.000 sewing machines and 52.000 tyres. Thus, Jyden covered about 12 per cent of the Danish market for bicycles. Wholesale outlets were established in Bronderslav, Aarhus, Vejle, Kolding, Slagelse, Copenhagen and Ronne.
The year 1915 saw Jyden entering the motorcar market in Ernest. New branches, under the name "Autojyden", were opened in Aarhus, holding, Odense and Copenhagen. Jyden´s turnover increased from one year to the next. From 1.4 mio Kroner in 1916 to 2 mio Kroner in 1917 and 6,5 mio Kroner in the last years before the bankruptcy.
When The First Word War ended in 1818, the sale motors and motorcars boomed once again. Jyden also contemplated taking up the manufacture of aeroplanes. The company´s ambitions were anything but modest. And at home in Aalestrup, Peder Andersen had a large, luxurious house built for himself in 1920/21. He was a wealthy man, and never had his businnes prospered as it did just then. His stocks were replete, and turnover continued to rise. But in the autumn of 1920, the Word slump hit Denmark. The Krone dropped to half its value in gold. Danish business found itself in crisis, and Jyden did not escape. Too large disbursements, particulary to Autojyden, combined with speculation, causes Jyden to suspens its payment, followed by bankruptcy in 1922. Peder Andersen was personally liable for the entire debt, which was calculated at more than 2.5 mio Kroner, a staggering amount for the time.
Peder Andersen succeeded in re-establishing Jyden, this time as a limited company. It was planned to issue shares for 250.000 Kroner, but only 85.000 Kroner were taken up. However, it was sufficient to get going on. The new limited company leased the buildings in Aalestrup from the credit association. All the branches were closed. The house was sold and a flat was prepared for Peder Andersen in the buildings of Jyden Ltd.
In business terms, the limited company was successful. Peder Andersen and his son, Niels Andersen, became managing directors of the new company. In 1924, a disagreement arose between them and Aksel Diemer, the company chairman, who the Andersens believed was attemping to push them aside. Diemer was discharged. The next management crisis came in 1933, when a conflict arose between Niels Andersen and Niels Uldbjerg, his brother-in-law. The company chairman sacked Niels Andersen, but only succeded in aggravating of the crisis, which now reached its peak. One of the two man had to leave the company. As Peder Andersen was unable to accept the resignation of his son, Niels Uldbjerg left Jyden in September 1934.
At the time, Peder Andersen was 66 years old, and even through he was still formally head of Jyden, it was Niels Andersen who as managing director was in reality at the helm of the business. P. Andersen continued to be aktive in the firm until 1941, mainly by visiting the firm´s retailers to sell bicycles and spares. Peder Andersen died after a short illness on 16th of January 1942, a couple of months before his life´s work could celebrate its 50th anniversary. Jyden Ltd. continued for another 20 years, until went bankrupt in 1962. On his death, Peder Andersen also left a collection of historic bicycles. Today, this collection forms the nucleus of The Danish Bicycle Museum in Aalestrup, which is housed in P. Anderson´s old house from 1921.
Meeting in the Friday club
Every Friday at exactly 9 AM three gentleman set together at Denmark´s Cycling Museum in Aalestrup. The average age is more than 70 and these free are part of five person board at the museum, which is the only in Scandinavia that illustrate the technical development of the bicycle in detail.
album: Cykelmuseum - Denamrk
During the meetings on Fridays the three decide which jobs need to be covered at the museum. "We paint and put up wallpaper and fix the bicycles that are brought to us, because sitting still does not agree with us", say all three of them. Of course they also spend some time keeping an eye on the impressive collection thet stretches from the very first bicycles to the modern ones we know today.
Anger Svenningsen is happy to show people around and we are barely inside before he shows us a velocipede that was constructed by the legendary Pierre Michaux in Paris in 1865. "He was the one who thought it might be practical to put pedals on bicycles and this bicycle is the world´s first racing bicycle" he says.
If you will visit this museum during Friday, you will be feeling like VIP guests.
IVCA Rally 2010 in Denmark
photo by Jan Bejšovec - ex chairman ČKV 1880, more info: www.cykelfestival.dk
album: IVCA Rally 2010 - Denmark
Info mix