"Captain Gerard" - Peugeot - Bicycles / Archive - Sold / Archive - Sold / Archive - STERBA-BIKE.cz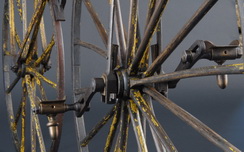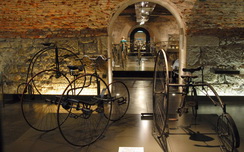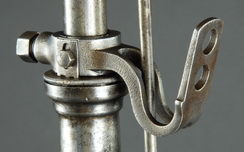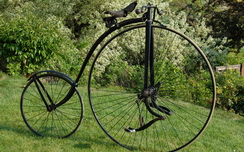 "Captain Gerard" - Peugeot
click on picture to enlarge
An absolutely completly, light and nice machine. Very good rideable condition with original tyres. The folding system is functional and going easy. It is uncredible to see army machine which was made 100 years ago and which is in this condition!!!! An excellent bicycle for museum or best collections.
Description
Peugeot was formed in 1810 by brothers Valentingney. It started with foundry work, then the production of quality saws, with the lion as a symbol of quality. In 1876 there was change of name to Lies Fils de Peugeot Fréres. The first bicycle was produced in 1885.
The "Captain Gerard" was made from 1897 to c1914. Gaptain Gérard commanded the 147th company of some 150 military cyclists. In the time between 1906 to 1914 catalogue of Peugeot it is describe as Bicyclette Pliante (Pliante Gerard or Systéme Gerard) like "modéle de l´armée", altered in 1912, and priced at Fr.300. Wheels were 60 cm diameter with chainring and rear sprocket making the gearing equivalement to 60" approximately.
Buy
| | |
| --- | --- |
| Price | - |
| Availability | |
| Part number | 53 |
| Year: | 1910 circa |