Boneshaker, Manufacturer unknown, France – around 1870 - Bicycles / Archive - Sold / Archive - Sold / Archive - STERBA-BIKE.cz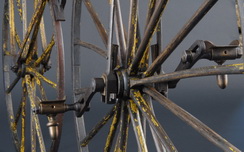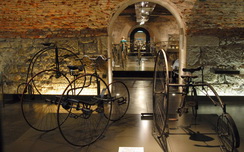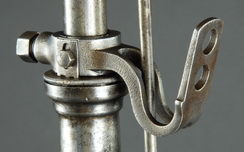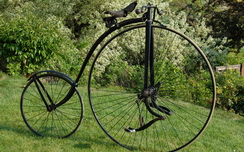 Boneshaker, Manufacturer unknown, France – around 1870
click on picture to enlarge
Front wheel diameter 93 cm, rear 80 cm.
All parts of the bike are original, nothing is missing on the bike or nothing has been added. Excellent condition without corrosion and damage. The wooden bikes are in great condition, it can be seen that the bike was stored dry all the time.
Origin: ex Dutch National Museum VELORAMA
Description
A typical French school. Depending on the design and details of the wheel, it can be easily claimed that this is a large established manufacturer. Great velocipede in absolutely original condition. Most of the original color on the frame and wheels. Today it is almost impossible to find a complete velocipede from around 1870 in such a state.
Buy
| | |
| --- | --- |
| Price | - |
| Availability | |
| Part number | 510 |
| Year: | c.1870 |