27th annual International Cycling History Conference 2016 and Cycle-bration of 150 years of bicycling in America - Information mix - Information mix - Information mix - STERBA-BIKE.cz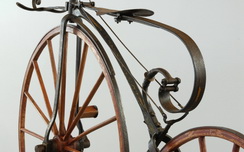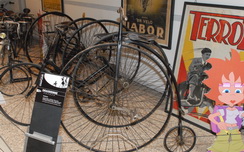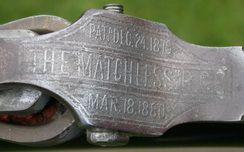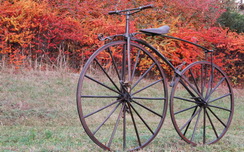 27th annual International Cycling History Conference 2016 and Cycle-bration of 150 years of bicycling in America
Welcome in the USA
album: USA 2016
"Cycle-Bration" - 150 years of bicycling in America
The big "Cycle-Bration" event in New Haven (Connecticut) celebrated 150 years of bicycling in America. This was for an all age bike and rider event 2016 June 25th and 26th and was open to the public, free of costs, and open to bicycles (and riders) of all ages. This was part of the Arts and Ideas festival ( New Haven's largest festive). 
album: "Cycle-Bration" - 150 years of bicycling in America
Pierre Lallement memory 
2016 marks the 150 year anniversary of the first bicycle patent in the world !!!! Pierre Lallement (lived Ansonia, Main Street) rode across the New Haven Green April 4th 1866 ( first newspaper account of a bicycle ride in the world) , he files for a patent April 30th with patent attorney John Earl, and the worlds first bicycle patent was granted November 20th 1866. 
album: Pierre Lallement memory
Pierre Lallement patent 1866
album: Lallement patent 1866
Pierre Lallement Bicycle Festival and Ride
We rode Pierre Lallement's original ride Derby to Ansonia and back. 
album: Lallement's original ride
Witty Velocipede
June – July 1868, Made by Calvin Witty of Brooklyn, NY under order of the Hanlon Brothers, copied from Lallement patent drawing. Non adjustable saddle or pedals.
One of America´s first velocipedes.
album: Witty Velocipede I
International Cycling History Conference
Very nice and friendly New Haven hosted this year's conference. Carey Williams opened the conference in very good mood and the same atmosphere was there for all next days.
album: ICHC - North haven
Exhibition "150 years of bicycling in America"
One part of International Cycling History Conference was very nice exhibition at the Best Western, 201 Washington Ave , North Haven , CT (June 25th to 29th 2016)
album: Exhibition "150 years of bicycling in America"
27th International Cycling History Conference 2016 - Lectures
The American Cycling Experience - A Photographic Record 1850-1950.
Lorne Shields, Canada
album: Lorne Shields
The Hobby Horse in America, man learns to balance 1819.
Glen Norcliffe, Canada
album: Glen Norcliffe
Pierre Lallement and the Velocipede era, man learns to pedal, 1865-70.
David Herlihy, Boston ,MA
album: David Herlihy
The rise and fall of the high bicycle; pedaling with a view, 1870-1893.
Carey Williams, Chicago IL
album: Carey Williams
Boom and bust of the American bicycle craze, 1890's.
Paul Rubenson, Baltimore , MD
An Autobiography between the lines; Karl Kron's 10,000 miles on a bicycle.
Dave Buchanan, Edmonton, Canada
album: Dave Buchanan
Reading Smart ('s diary). Mapping the routes and embodied subjectivity of a 1890's cyclist.
Christine Bachman-Sanders, Minn, MN
album: Christine Bachman-Sanders
Trans Am Trail, America's Bicycle route.
Greg Siple, Adventure Cycling Association Missoula, Montana
album: Greg Siple
Bicycling History Archive.
Joanne Riley, Healey Library University Mass, Boston
album: Joanne Riley
Joseph R Wilson Jr, State vs Yopp and the League of American Wheelmen.
Michael Gately, NYC
album: Michael Gately
"Mount Holly and Smithville Bicycle Railroad".
Dennis McDonald, Medford, NJ
album: Dennis McDonald
America's first bicycles: the velocipede era
Carey Williams, Chicago. IL
album: Carey Williams II
The life of Charles Palmer, (New Rapid)
Christian Wignall, San Francisco, CA
album: Christian Wignall
The safety bicycle
Nick Clayton, UK
album: Nick Clayton
Unveiled, a chain drive American velocipede tricycle
Lorne Shields, Toronto Canada
album: Lorne Shields II
"Lady Cyclists" Dress and tricycling in Britain and the United States during the 1880's
Catlin Cohn, MN
album: Catlin Cohn
The Needham Tricycle
John Malseed, UK
album: John Malseed
Wheel Violence
Duncan Jamieson Ashland University, OH
album: Duncan Jamieson
Bicycling and bicycling advocacy on Commonwealth Ave, Boston, MA 1970-present
John Allen, Boston, MA
album: John Allen
The Henley Bicycle Works and its founder
Gary Sanderson, Verona, NJ
album: Gary Sanderson
1982 The year of the plastic bicycles
Chris Morris, B. C., Canada
album: Chris Morris
Overman and Eastman. The bond (and break) of American icon George Eastman and bicycle magnate Albert Overman
David Herlihy, Boston, MA
album: David Herlihy II
The church or the wheel, religion contends with the American bicycle boom
Chris Sweet, IL
album: Chris Sweet
Fred St. Onge and the Transformation of Bicycling in the Bust Years
Lorenz J. Finison, Ph.D, Boston Mass
album: Lorenz J. Finison Ph.D
Traces of 19th Century Cycling in the building environment
Robert MCCullough, VT
album: Robert MCCullough
Cycling in the 19th century Gent
Dirk Van Luchem, Gent , Belgium
album: Dirk Van Luchem
28th ICHC Mannheim, Germany 2017
Eva Gramlich
album: Eva Gramlich
This monument  was erected in 2008 in memory of Major Taylor  in his adopted home town, Worcester, Mass.
album: Major Taylor
Bus trip to see "Pope Manufacturing Company" in Hartfort, Connecticut and "Ames Manufacturing Company" in Chicopee, Massachusetts.
album: Pope M.C. and Ames M.C.
Next abandoned buildings were nice too....
album: For Lease
A fantastic brochure compiled by Mr.Robert McCullough. Very good job. Thank you.
album: Robert McCullough
We stopeed in The Henry Sheldon Museum in Middlebury, Vermont to see showcasing the extensive bicycle collection of Glenn Eames with the exhibit "Pedaling Through History: 150 Years of the Bicycle". It was top peak our way!!
Contact: http://henrysheldonmuseum.org/
album: 191 - Henry Sheldon Museum
Shelburne Museum is a museum of art, design, and American located in Shelburne, Vermont, United States. Over 150,000 works are exhibited in 38 exhibition buildings, 25 of which are historic and were relocated to the Museum grounds. It is located on 45 acres (18 ha) near Lake Champlain.
Contact: https://shelburnemuseum.org
album: Shelburne Museum
Blacksmith and Wheelwright
album: Shelburne Museum II
Old SeaPort MYSTIC, Connecticut
Contact: http://www.mysticseaport.org/
album: Mystic
Info mix