About us - About us - STERBA-BIKE.cz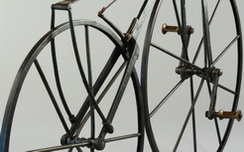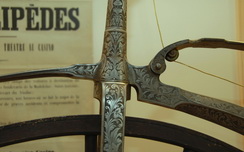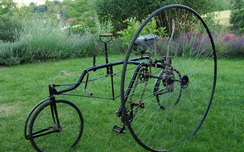 "Biczycle collection" has a great many meanings. One of then corresponds to an independent and unorganized group of friends and fans of historical bicycles. This is a group of people of different ages, education and devotion to collecting and study. And especially different professions that, however, always meet and overlap around bicycles.
You will find three basic spheres of information on our web site:
General information on museums, collections, events and especially about the technology of historical bicycles
Professional articles on the history of bicycles
A collection of individual services intended for anyone who may need them
A selection of collector's' items intended for sale
album: About us
"It is not common for the first page of a web presentation to be written by a journalist. You may well ask – why? Why should an independent journalist of a specialized bicycling magazine write about a Prague bicycle outlet? - Although it should be added that Štěrba is also the trade name of special custom-made road bicycles.
The answer to this question is quite straightforward and simple – because our editorial board was asked to do so. Nonetheless, we are very glad to be able to do this. Robert Štěrba, the founder and owner of the company, is undoubtedly one of the best known figures in his field, whose philosophy and charisma have affected the establishing and developing of the bicycle market in this country. The story of his life makes interesting reading and is definitely noteworthy.
People who have been interested in bicycles for a longer time know Robert very well. He was one of the best competitors in the country in the 1980's. He has been national champion five times and won a bronze medal at a track cycling world championship. He competed for the Dukla Prague team, where a number of excellent competitors, such as Trčka, Soukup, Černý and Buchta, gained the title of World Champion under the leadership of trainer Vršecký. In fact, a great many other figures in the Czech bicycle business were recruited from the Prague Dukla team – Vokolek, Bareš, Pek, "Toďa" Černý, Konárek, and others. Half of our four editors were also active in this club. Towards the end of his competitive activity, he competed as a private person because of differences of opinion with the management of Dukla and the representatives. He even worked as a waiter in a restaurant for one year, but then returned to bicycle racing and was even a member of the national representative team.s
After terminating his active sporting career, Robert Štěrba acted as a mechanic for the national representative team. As the fall of the Communist regime approached, with increasing opportunities for foreign travel, he did not hesitate and travelled abroad for more lucrative work and to gain new experience. There he met Bob Štícha, who is one of the best known bicycle builders in the world and has his own company and trade name in Switzerland. Later he joined the Molk – Stans company in Lucerne, where he learned custom-made construction of special hand-made bicycles. He was soon entrusted with an entire frame production section. For example, alone he constructed a special track bicycle for one of the most famous track cyclists, the Swiss world cycling champion, Urs  Freuler. Here, he learned not only to solder frames together, but also to work, paint and design them. His teacher and the master painter was a person who now "sprays" frames for Colnago. At this revolutionary time, he also gained valuable experience in business know-how. It was an obvious step to establish his own brand when he returned to Bohemia, where he began to build bicycles under his own name. His workshop is in the basement of a family home in Podolí in Prague. Although he always works alone, he soon gained an excellent reputation, both amongst competitors and amongst experienced hobby cyclists, and his bicycles are now famous and a synonym for top-notch quality.
album: Robert Štěrba workshops
About us