Selbach race, c.1930 Anglie - Sportovní a závodní kola, díly - Sportovní a závodní kola, díly - Sportovní a závodní kola, díly - STERBA-BIKE.cz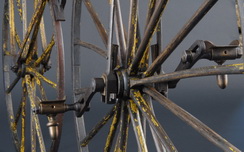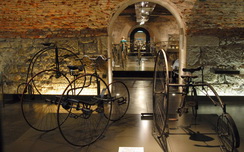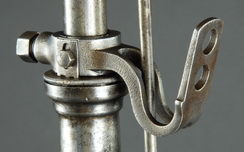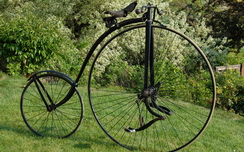 Selbach race, c.1930 Anglie
klikněte na obrázek pro zvětšení
Frame size: middle to the top of saddle tube 58 cm
More info about Selbach: onlinebicycle museum
Popis
This very rare Selbach  in barn find condition its iconic Britisch lightweit.
Maurice Gaetan Selbach was born at his parents' home, 4 Rue Laugier in the 17th district of Paris on 12th August 1889. His father, Oscar Carl Selbach, was an engineer, aged 25, and his mother, Marguerite Kossakowska was 17 years of age. The father was an American citizen of German descent, born in the state of Ohio. Little is known of the young life of Maurice. The next earliest reference we can find is in the 1901 England and Wales census, when Oscar C Selbach is listed as living at 21 Southampton Row, Holborn, District of Finsbury, London. His occupation is given as Managing Director, Autocar Supplier.  Besides Oscar, two other persons are listed: the first, Louise E. Selbach, wife, aged 28 years, of American origin but born in Bengal, India, and Maurice G Selbach, aged 11 years, of American citizenship.
During the First World War Maurice served in the London (Cyclist) O.C.A. but was home at some stage during 1917 when he married Adele Nabarro at Edmonton, North London (This marriage was dissolved at some point during the next 10 years and Adele was to marry twice more).
Selbach had his greatest successes in cycle racing in the early 1920s and this encouraged him in 1924 to set up business as a cycle manufacturer at 337, Kennington Road, London, SE11. The business must have expanded rapidly because by 1926 he had expanded into number 312 Kennington Road.
He was a very innovative engineer and pioneered the used of taper tubes in frame constuction and  was amongst the first to utilise roller bearings for both the bottom bracket and headsets of his frames. He also pushed forward the design of racing tandems by incorporating a curved rear seat tube making for a stiffer and more responsive frame for use in racing. Maurice Selbach evolved many ideas relating to modern lightweight bicycle design but was far as we are aware only patented one.  A patent specification exists for "Improvements relating to Tyre Valves" no. 263,992.  Accepted January 13th, 1927.
His superior frames were recognised as being amongst the best by many of the top racers of this time and they were in great demand. Amongst the many successes clocked up by his frames was the taking of the World Motor-paced One Hour Record by Harry Grant a top exponent of this class of racing.  Grant managed to cover a staggering 56.5 miles in the hour. 1927 must have been an important year for Maurice as two major events took place.  Firstly, he married Florence Rose Whiting at St. George's House Square, London, and secondly, on the 23rd December, he became a naturalised U.K. citizen, having previously been a citizen of the U.S.A.  (Another eye-cathcing connection with the U.S. was the large Buick Princess Sports motor car he drove!).
In 1932 Albert Richter won The world Amateur Sprint Championship riding a Selbach frame.
By 1934 the world depression seems to have made a difference to the business as it is now only listed at 316 Kennington Road.  At this time the Selbachs were living in Clapham SW4.
Koupit
| | |
| --- | --- |
| Cena | 44 990,- Kč |
| Dostupnost | |
| Kat.číslo | 812 |
| Rok: | c.1930 |
| Koupit | |
ESHOP / Na prodej
Archív / Prodáno