Mochet Velocar cca1930 - Kola / Archív - Prodáno / Archív - Prodáno / Archív - STERBA-BIKE.cz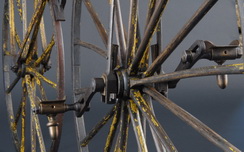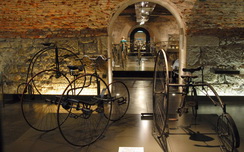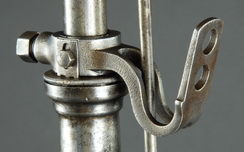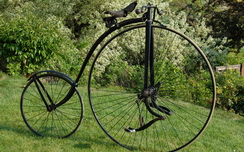 Mochet Velocar cca1930
Popis
Mochet convinced cyclist Francis Faure, who was not one of the top cyclists, to ride the two-wheeled Velocar in races. Faure was highly successful, defeating many of Europe's top cyclists both on the track and in road races, and setting new world records at short distances. Another cyclist, Paul Morand, won the Paris-Limoges race in 1933 on one of Mochet's recumbents.
Then on 7 July 1933 at a Paris velodrome, Faure rode a Velocar 45.055 km (27.9 miles) in one hour, smashing an almost 20-year-old hour record held by Oscar Egg. Since the one hour record was one of the most important in all of cycling, that accomplishment attracted a great deal of attention. Less than two months later, on 29 August 1933, Maurice Richard, riding an upright bicycle, also bettered Egg's one hour record.
When the Union Cycliste Internationale (UCI) met in February, 1934, manufacturers of upright bicycles lobbied to have Faure's one-hour record declared invalid. On 1 April 1934, the UCI published a new definition of a (racing) bicycle that specified how high the bottom bracket could be above the ground, how far it could be in front of the seat and how close it could be to the front wheel. The new definition effectively banned recumbents from UCI events and guaranteed that upright bicycles would not have to compete against recumbents. For all intents and purposes, the ban is still in effect.
Charles Mochet died suddenly in 1934, just after the UCI ban. The business was carried on by his widow and his son Georges. After the war, Georges continued making mainly powered microcars in the 'Sans Permis' category until 1957. He also continued to ride and develop recumbent bicycles, and died in 2008
Text: http://www.oldbike.eu/museum/
Koupit
| | |
| --- | --- |
| Cena | - |
| Dostupnost | |
| Kat.číslo | 289 |
| Rok: | cca 1930 |