Dursley Pedersen c.1905/06 - Bicycles - Bicycles - Bicycles - STERBA-BIKE.cz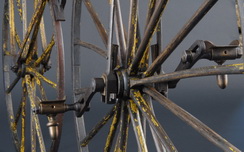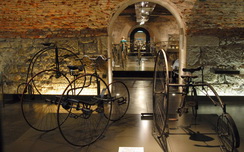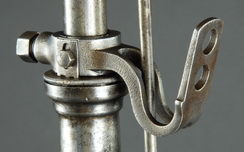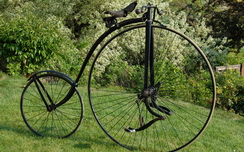 Dursley Pedersen c.1905/06
click on picture to enlarge
Absolutely complete Dursley Pedersen, frame size 5, serial number 2351. The rear hub, patented by Mr. Pedersen, is fully functional. Original color!
Frame sizes
Because of the limited adjustment possibilities, cycles were made in 8 sizes for men related to leg length and it was important to have the right size. Otherwise riding could be very uncomfortable.
Ladies frames came in three sizes, A, B and C but ladies legs were presumably unmentionable as leg length is not referred to.
Description
Mr. Pedersen's bicycle is one of the most beautiful bicycles ever invented, with regards to harmony, strength and lightness in the frame.
The first Mikael Pedersen's Cycles in production can be dated to between 1897 and 1899. In the summer of 1899 Dursley-Pedersen Cycle Co. was founded. Owners was Robert Asthon Lister (Later Sir Asthon) and his son Charles Lister, and Mikael Pedersen. They received license from the Pedersen Cycle Frame Co. Ltd. to make bicycles. In 1917 the Dursley Pedersen Cycle Co. ceased to be. Some firms continued making bicycles until 1921.
more info: http://www.dursley-pedersen.net
Buy
| | |
| --- | --- |
| Price | - |
| Availability | |
| Part number | 516 |
| Year: | c.1905/06 |
ESHOP / For sale
Archives / Sold