Calvin Witty and his first "licence plate" to ride - Specialized articles - Specialized articles - Specialized articles - STERBA-BIKE.cz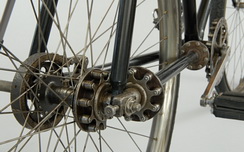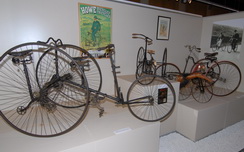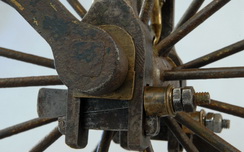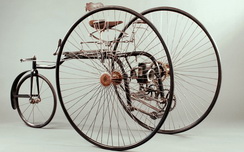 Calvin Witty and his first "licence plate" to ride
The greater wheel world 150 year ago ..as the Velocipede fever was roaring hot ...Calvin Witty was about to end the party.
album: První licenčnční poplatek
February 3rd, Calvin Witty sends out a notice to all involved with velocipedes.
"You are hereby notified that Letter Patent #59,915, granted Nov. 20, 1866, secures a velocipede with two wheels, treadles and guiding arms, and that the velocipede you manufacture is an infringement upon the said patent. The present is to require you to cease the further manufacture of said velocipedes and to settle with me for all past infringement of the rights under said patent. Your respectfully, Calvin Witty".
This notice spread fear through the just booming velocipede world. Witty was quick to offer terms in which all could continue to manufacture machines and for those who had purchased machines you must now pay a licensing fee of $10.00. Witty was quick with his legal thugs to go to each riding school and demand payment for licensing or threat of shutting down the schools. The schools were the easiest targets for existing machines, as each school would have 6-50 machines, easy money for the taking. The licensing was a stamp on the machine of the Lallement patent date "Patd Nov 20th 1866" and a serial number. (6) The stampings were hand held and hammered onsite. The manufactures that signed a licensing agreement would pay 10.00 to 25.00 per machine depending on production projections. Absorbing the licensing fee "royalty" was not part of the manufactures program, a simple increase in price of $10.00 was made.
The $10.00 fee was marked paid with a stamping on your velocipede of the Lallement patent date and normally a # ... the first form of "licence plate" to ride . 
Source:   Carey Williams  2019
Pierre Lallement patent 1866
album: Lallement patent 1866
Witty Velocipede
June – July 1868, Made by Calvin Witty of Brooklyn, NY under order of the Hanlon Brothers, copied from Lallement patent drawing. Non adjustable saddle or pedals.
Collection Carey Williams - USA
album: Witty Velocipede I
Collection Carey Williams - USA
album: Witty Velocipede II
Collection Glenn Eames  - USA
album: Witty Velocipede III
Moto velo musée, France - collection Claude Reynaud
album: Witty Velocipede IV
Privat collection - Italy
%album(1483,3,3)%
Specialized articles